Isolated village thrives on tourism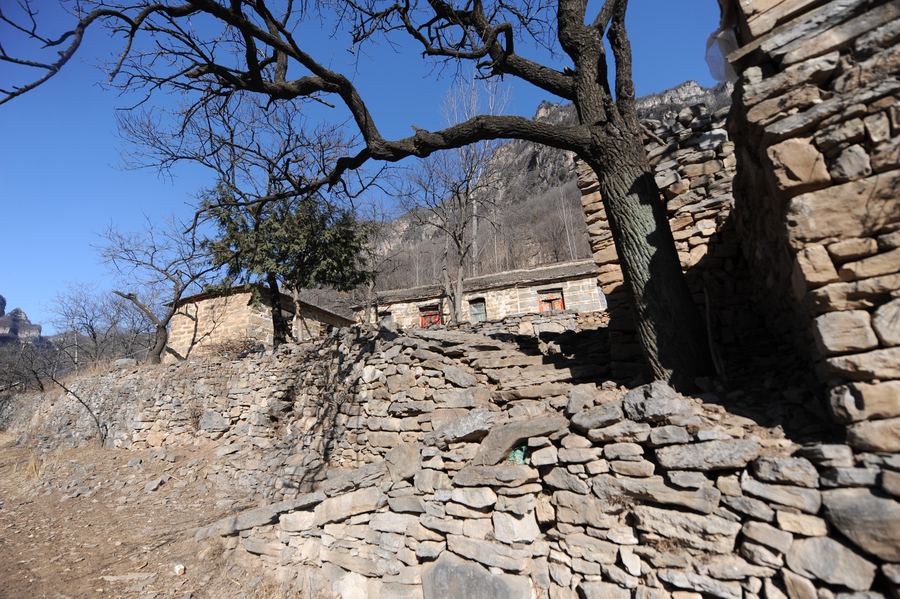 Photo taken on Feb 12, 2017 shows Baodu village. [Photo/VCG]
Hidden amongst verdant fields and mountains in North China's Shanxi province is a small village where people here have lived in relative seclusion for generations.
There are no roads or train tracks on the rugged terrain leading to Baodu village, sitting halfway up a 15-kilometer valley along the south of Taihang Mountain. The only way to get there is a four-hour trek down the valley cliff.
For decades, villagers have been living here as stonemasons. That's why stone houses and walls, along with stone mills and stoves can be seen everywhere in this village.
The well-preserved tradition is not only reflected in the architecture, but the villagers attitude towards heavy road construction to the village. They believe that would ruin the original beauty here, and threaten the endangered taxus chinensis.
Under much consideration, 12 years ago, the village installed a windlass with a welding iron cage on the cliff, to carry heavy items in and out of the village.
This has turned out to be a valuable addition as more and more outdoors-lovers are attracted to the tough hiking trails surrounding the village, presenting villagers with business opportunities.
Among the nine permanent households in the village, five of them are now running the agri-tainment, with the average annual income more than 100,000 yuan per family.