Loose rocks trigger deadly Tibetan landslide
LHASA - Loose rocks triggered a massive landslide that buried 83 workers in Southwest China's Tibet autonomous region last Thursday, a geological expert said Tuesday.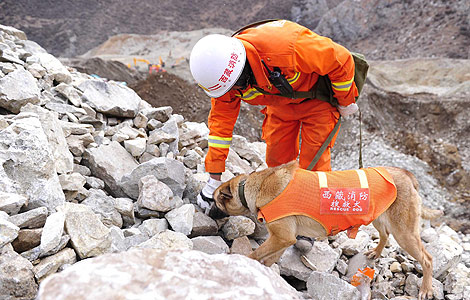 A rescuer with a sniffer dog inspects at the site of a mining area landslide in southwest China's Tibet autonomous region, March 31, 2013. [Photo/Xinhua]
About 3.5 millon cubic meters of loose rocks remain on top of the mountain that served as the source of the landslide, posing a threat to the rescuers beneath, said Dorje, an academic with the Chinese Academy of Engineering.
Dorje has conducted a field investigation into the cause of the disaster, which occurred around 6 am last Thursday.
Dorje said the area that the landslide originated from was previously covered by large glaciers. Rocks hidden under the glaciers broke into smaller, loose rocks over a long period of time due to thermal expansion and contraction stress, as well as rainy and snowy weather.
Dorje said smaller rocks near the source of the landslide collected together and snowballed into a massive landslide that was incredibly destructive.
Rescue efforts are under way, although rescuers had to halt their work on Monday due to fears of new landslides. Rescuers had retrieved 36 bodies as of Monday afternoon. Forty-seven others remain buried.
Dorje warned of the possibility of a secondary landslide, suggesting that rescue efforts should be closely monitored and include preventative measures to ensure the rescuers' safety.