Shenzhen: A story of change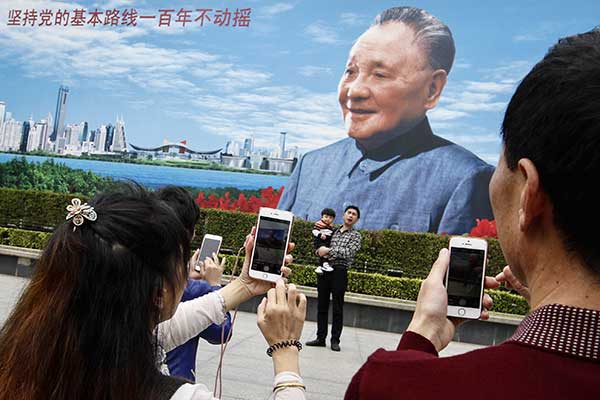 Residents and tourists pay their respects to former leader Deng Xiaoping, chief architect of China's modernization, in front a portrait of him in Shenzhen, Guangdong province, on Sunday, the 20th anniversary of the leader's death.Xu Wenge / For China Daily
Deng Xiaoping's vision made development of the city possible
Deng Zhibiao has always regretted letting his son leave Shenzhen. "I should have stopped my second son from going to Hong Kong 40 years ago," said Deng, 75, at his home in Shenzhen, a business metropolis in South China's Guangdong province.
The city has served Deng's eldest and youngest sons well. Both have more than one apartment in the city, as well as incomes of several hundred thousand yuan a year.
Deng was once head of Yumin village, a hamlet of fishermen, in Shenzhen. In many ways, his family life has run hand-in-hand with the life of Shenzhen, which has developed greatly over the past few decades.
As one of China's first special economic zones, Shenzhen has evolved from a tiny fishing village into a vast metropolis. The city has a population of nearly 12 million, and its GDP ranks fourth behind Shanghai, Beijing and Guangzhou.
There is another Deng whose relationship with Shenzhen is better known.
Former Chinese leader Deng Xiaoping was known as the chief architect of China's economic reform, opening-up and modernization, and it was his landmark speeches during his famous "Southern Tour" of China in 1992 that further inspired the fast-developing city to continue on its path.
The city became free to reform and pursue wealth. Deng Zhibiao venerates his namesake: "Without his policies, such development would be unimaginable," he said.
Change of policies
Deng Zhibiao often recalls the poverty of the 1970s and being offered bread and soda water that had come from neighboring Hong Kong.
"I dared not eat them," he said. "They were products of capitalism."
Shenzhen's poverty led to many of the residents attempting to sneak into Hong Kong.
"We fished in the Shenzhen River. Many fishermen didn't come back," Deng Zhibiao said. "Among more than 70 households, about 30 left."
Deng Xiaoping visited Guangdong in 1977. Three years later, Shenzhen became a special economic zone, an area where special business policies were experimented with.
Deng Zhibiao started buying secondhand cars in Hong Kong to sell in Shenzhen.
"Before the reform, I couldn't do that. It was called capitalism."
By 1980, many people in Yumin village had televisions, fridges, stereos and electric cookers - all luxuries at that time. While other Chinese citizens earned less than 100 yuan ($15) per month, the average annual household income in the Shenzhen exceeded 10,000 yuan.
By 1985, the residents had started factories making clothes, watches and jewelry. Businesses in Hong Kong were soon investing.
Heated debate
Huaqiangbei, a subdistrict of Shenzhen's center, used to be a collection of manufacturers.
"At first they made electronic devices. Shenzhen Electronics Group came into being in 1986 when they needed a market to buy components," said Hu Jianping, deputy general manager of SEG.
Following SEG, more companies were founded and Shenzhen started to take shape as a manufacturing hub. "What was then the Ministry of the Electronics Industry provided experts; the city government of Shenzhen gave us land and exempted our taxes," Hu said.
However, the development was not all smooth sailing.
"From a planned economy to a market economy, the model for SEG invited dispute," Hu said.
Chen Xitian, 76, former deputy editor-in-chief at Shenzhen Special Zone Daily, said that reform and opening-up were stagnating at the beginning of the 1990s when the world saw serious setbacks in the socialist movement in the former Soviet Union and Eastern Europe.
"In China, there were heated discussions about socialism or capitalism," Chen said.
Deng Xiaoping's Southern Tour brought the debates to an end.
"A planned economy is not just about socialism, as there is also planning under capitalism; a market economy is not just about capitalism, as there are also markets under socialism," he said.
After that, Deng Zhibiao's village was converted into a joint stock company.
Hu Jianping, then 30, quit his job as a teacher in Northwest China's Shaanxi province and went to Shenzhen. SEG started manufacturing cellphones.
"At the height of its prosperity, about 70 percent of the world's cellphones were made in China, while 80 percent of China's cellphones were from Huaqiangbei," Hu said.
Innovation revolution
Years later, Shenzhen faced a new set of challenges.
In 2012, Xi Jinping, general secretary of the Communist Party of China Central Committee, conducted an inspection tour of Guangdong.
Xi said that China's reform had come to a juncture where it would be more complicated to tackle difficult issues, and the CPC had to exercise political courage and deepen reform in important areas.
SEG began cooperating with internet and technology giants, such as Tencent, Huawei and Alibaba, shifting its focus to chuangke - hands-on technology enthusiasts who use 3D printers, robotics and other advanced tools to create products.
Since then, an innovation revolution has been underway, and Shenzhen's transformation has been nothing short of miraculous.
Chen Xitian remembers Deng Xiaoping standing beside the Shenzhen River in 1992 in the cold wind, gazing at Hong Kong on the other side.
Deng Xiaoping died on Feb 19, 1997, about four months before Hong Kong's return to the motherland.
On Jan 3 this year, a memorandum was signed between Shenzhen and Hong Kong. The land Deng looked at 25 years ago will soon become a technology park.
It was a long and winding road, and few people knew exactly where the constant changes in Shenzhen would lead.
However, some things are more inflexible. A huge portrait of Deng Xiaoping in the city is emblazoned with large red Chinese characters reading: "Stick to the Party's basic line unwaveringly for 100 years."