Hopes fading for mine landslide victims in Tibet
Rescue workers have not found any survivors almost two days after a massive landslide took place Friday morning that buried 83 gold mine workers in Lhasa.
More than 3,500 rescue workers equipped with 200 digging machines trudged through mud and snow at the site 4,700 meters above sea level. Even with 15 search dogs and 15 life detectors, the rescue team had still not been able to find any traces of life.
The landslide hit the Jiama mining area in Maizhokunggar central Tibet autonomous region at 6 am Friday morning, local authorities said.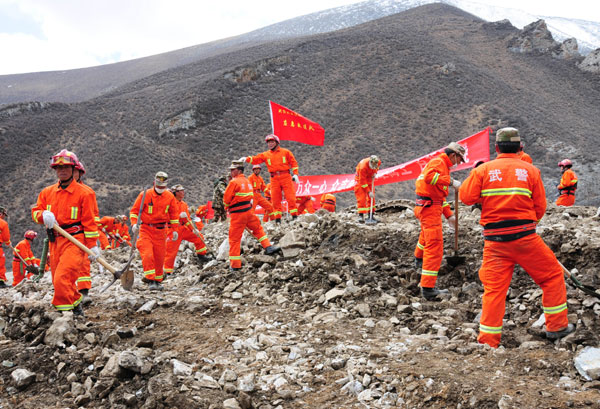 Rescue workers race round the clock at the accident site of a major landslide that hit a mining area in Maizhokunggar county of Lhasa, in Southwest China's Tibet autonomous region. Eighty-three people were reported missing. [Photo by Zhang Quan / for China Daily]
Two million cubic meters of debris from the landslide is spread over 3 kilometers between the mountains, with an average depth of about 30 meters, according to the rescue operation headquarters.
At 8:20 pm on Saturday, two people were dug out from beneath the debris, but were confirmed dead.
"It is very difficult to find the trapped victims because of the volume of the sand and stone," said Yang Dongliang, head of the State Administration of Work Safety, on Saturday.
"A powerful mudslide happened just after the landslide, and it washed over the site."
Yang said rescuers have located the camp where 83 people had camped in tents, but no survivors have been found so far.
"A team of experts from local and State authorities are investigating the fundamental cause of the landslide and they will publish their findings."
President Xi Jinping and Premier Li Keqiang have pledged that no effort will be spared to rescue the buried and prevent further disasters. They also urged that no time be lost in locating the buried workers and to find out the cause of the landslide.
Zhou Chengchan, senior engineer of the Land and Resource Bureau of the autonomous region said the mountain slope lost stability and support, which led to the landslide.
"The climate in Tibet has been too dry and the slopes are vulnerable to landslides."
According to rescue headquarters, of the 83 buried under the debris, two are Tibetans and the others are migrant workers from Yunnan, Guizhou and Sichuan provinces.
Sun Zhaoxue, general manger of China National Gold Group Corporation, which owns the mine, said the workers arrived only four days ago. Some had worked overnight and stayed at the camp, and were probably asleep when the landslide happened.
Huatailong Mining Development Company began production in the mining area in 2010. Maizhokunggar county in central Tibet sits 4,000 meters above sea level. The area has severe weather conditions year around, with frost damage in spring and autumn and storms with rain and hail, and drought in summer and winter.
In Northeast China's Jilin province, gas exploded in a coal mine in Baishan city at about 10:36 pm on Friday night, killing 28 people. Thirteen people were rescued from the mine.
Contact the writers at wanghuazhong@chinadaily.com.cn and daqiong@chinadaily.com.cn.
Han Junhong in Jilin contributed to this story.
Related stories:
Body found after Tibet landslide buries 83
Troops, police assist Tibet landslide rescue
Emergency response to Tibet landslide
No survivors, bodies found after Tibet landslide
Chinese leaders urge trapped workers rescue
83 buried in Tibet mine area landslide