Xi calls for better development of security grouping
China's top political leader Xi Jinping on Friday called for better development of the Shanghai Cooperation Organization as he met its new secretary-general, Dmitry Mezentsev.
Xi, general secretary of the Communist Party of China Central Committee, said the international situation is witnessing profound and complex changes.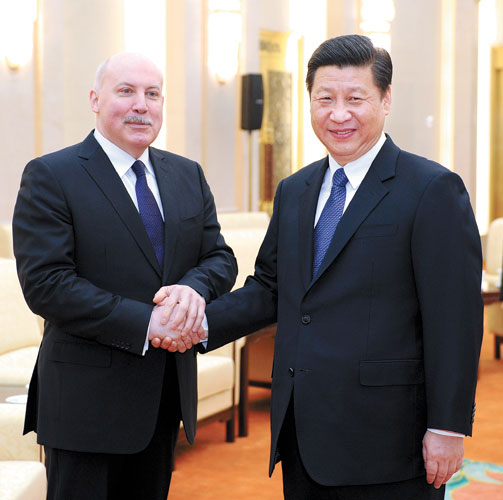 Top leader Xi Jinping calls for the Shanghai Cooperation Organization to play a larger role in regional and international affairs during his meeting with Dmitry Mezentsev, the group's new secretary-general, in Beijing on Friday. [Photo/Xinhua]
He said it is in the fundamental interests of all SCO members, as well as conducive to regional and world peace and stability, to develop the organization and boost neighborly and friendly cooperation in a sustained way to better counter new threats and challenges.
Xi said he hoped the SCO will implement well the consensus reached by leaders of the organization's member states and play an important role in safeguarding regional security and stability as well as driving common prosperity among all the members.
Mezentsev said the secretariat will cooperate closely with China to prepare for the SCO's summit in Bishkek, the capital of Kyrgyzstan, this year and make contributions to further develop the organization.
Mezentsev, from Russia, replaced Muratbek Imanaliyev, from Kyrgyzstan, on Jan 1. His term will last three years.
The SCO is an intergovernmental mutual-security organization founded in 2001 in Shanghai by the leaders of China, Kazakhstan, Kyrgyzstan, Russia, Tajikistan and Uzbekistan.
Xinhua News Agency