Xi extends festival greetings to workers, police
BEIJING - Chinese leader Xi Jinping has extended festival greetings to construction workers, street cleaners, police and taxi drivers ahead of the Spring Festival, which falls on Sunday this year.
Xi, general secretary of the Communist Party of China (CPC) Central Committee, on Friday visited those who remained at work during the Chinese Lunar New Year holiday.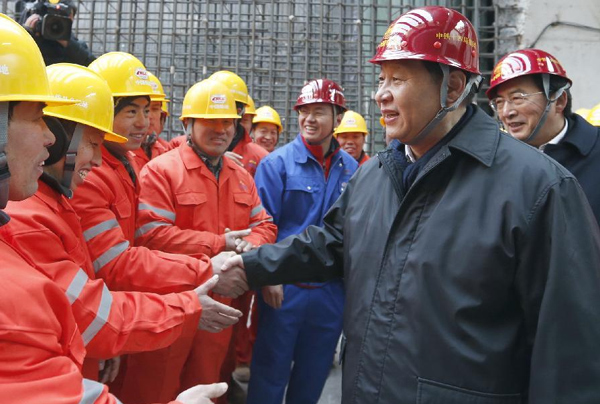 Xi Jinping (R Front), general secretary of the Communist Party of China (CPC) Central Committee and chairman of the CPC Central Military Commission, meets with workers at the construction site of the Nanluoguxiang station of subway line 8 in Beijing, capital of China, Feb 8, 2013. [Photo/Xinhua]
At a subway construction site in Beijing, Xi said developing public transport is "the direction for modern city development," adding that it has become an important measure for treating environmental pollution, which caused lingering smog in the capital last month.
"A multi-pronged approach should be taken to treat pollution, such as developing public transport and reducing car emissions," Xi said.
The leader also urged more attention to be paid to the plight of migrant workers.
Migrant workers represent an important part of China's workforce and they deserve attention and care from society, Xi said.
Xi urged employers to make proper arrangements for migrant workers during the festival to ensure that they have a meaningful and happy holiday.
Xi also stopped at a police station to greet police officers and proclaimed his confidence in their ability to fulfill their duty to maintain public safety.
While greeting sanitation workers, Xi said the public should respect the city's cleaners and cherish the environment.
Everyone should save resources and avoid waste, Xi said.
Xi also talked to taxi drivers in order to learn about the causes of Beijingers' complaints regarding the unavailability of taxis.
The drivers complained about high oil prices and difficulties in finding available parking.
Xi called for efforts from both authorities and taxi companies to improve management and services.