Man gets 13 years over inciting self-immolation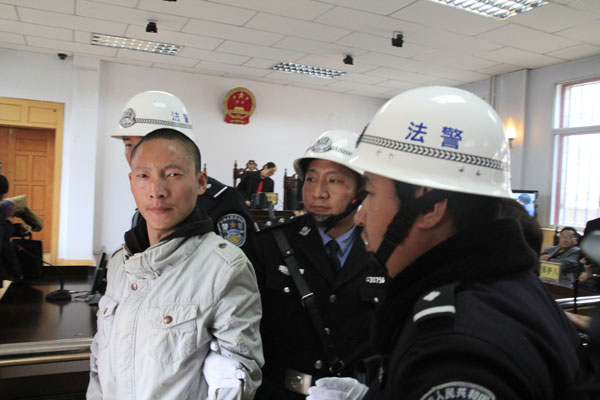 Phagpa, who is convicted of goading a monk to self-immolate and inciting split of the state, is brought into a court in Huangnan prefecture, Northwest China's Qinghai province, Feb 8, 2013. [Photo by Wang Huazhong/chinadaily.com.cn] 
The prosecutors said Phagpa, a former monk who fled to India June 2005, for 6 1/2 years, intended to help split the country and hurting others' well-being.
Prosecutor Ma Rilan said, "It's against human nature, against religion and against society.
"We urge people of all ethnic groups to cherish life and reason to avoid being used as others' tools."
In November, Phagpa also preached "Independence of Tibet" while paying tribute to self-immolators' families.
He confessed preaching, "Self-immolation is for the sake of the nation's freedom and happiness. They are honorable."
Moreover, he said he handed out money to the families in condolence as well as portraits of the leaders of the "Tibetan government-in-exile."
On the afternoon of Nov 12, Phagpa organized a demonstration in Dowa village. The crowd shouted slogans for independence in front of a police station.
When he was arrested, police found that his laptop contained pictures of "snow lion flag", portraits of leaders of the "Tibetan government-in-exile", and books and videos.
The court decided on a 13-year prison term for Phagpa after considering the homicide was not successful and taking in prosecutors' and defense lawyers' opinions.
Lobsang Samdan, a monk who attended the trial, said the procedures and proceedings were "just and fully taking into both sides' arguments."
Zhao Shunlu, a political adviser of the prefecture, said he hopes the case will promote others in our society to cherish life.