Man gets 13 years over inciting self-immolation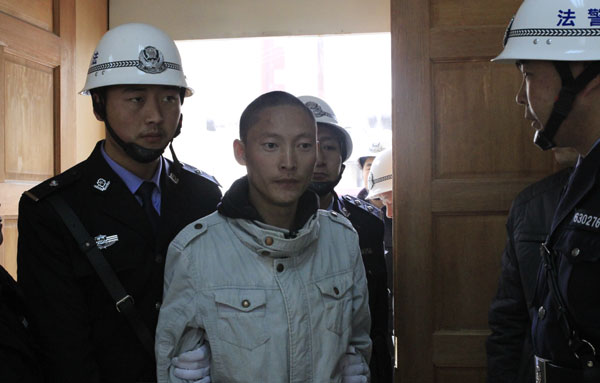 Phagpa, center, who is convicted of goading a monk to self-immolate and inciting split of the state, is brought into a court in Huangnan prefecture, Northwest China's Qinghai province, Feb 8, 2013. [Photo by Wang Huazhong/chinadaily.com.cn]
A man who was sentenced Friday to 13 years in prison for inciting monks to self-immolate said he repented his crime in a court in Qinghai province.
"I picked the wrong way, which is illegal," the 27-year-old man, Phagpa, said after hearing his verdict. "I was bewitched… and I didn't watch my mouth. I will change if I have the opportunity."
The Intermediate People's Court of the Huangnan Tibetan autonomous prefecture found Phagpa, of Dowa village, Tongren county, guilty of attempted homicide and inciting the split of the State.
Phagpa, whose penname is Jangnyong, meaning wild wolf in Tibetan, wore jeans, a white jacket and neat hair to the trial.
He said he will not appeal the sentence.
Over 100 people, including Phagpa's relatives, local legislators, political advisers and religious figures, heard the trial.
The trial proceeded in both Tibetan and Mandarin.
In June and July, the defendant helped plant thoughts such as, "Self-immolators are heroes who sacrificed lives for Tibetan freedom," and "Self-immolation is good for Tibetan freedom," twice to Drolma Je, a monk at the Dowa Monastery, the court heard.
After Phagpa's urging, Drolma Je bought petrol, cotton and prepared for self-immolation as he checked into the Yongqing Hotel in the county seat on Nov 18.
Drolma Je then called his cousin. The latter learned of Drolma Je's plan and persuaded him to give up the thought the next morning, on Nov 19.
They left the hotel after pouring the petrol into the toilet.