Weekend road accidents claim 50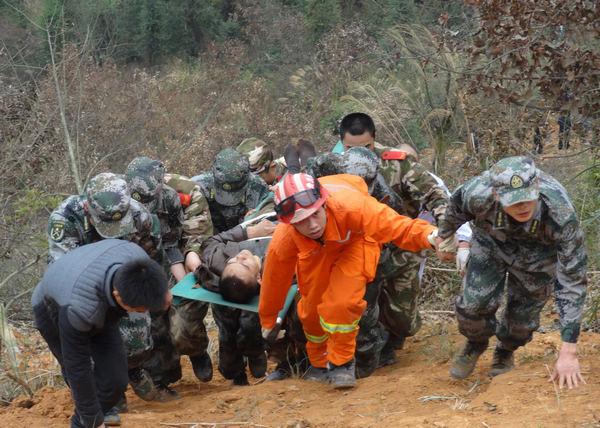 Rescue workers remove an injured passenger from the crash site of an overloaded bus in Congjiang, Guizhou province, on Saturday. Twelve people were killed in the crash. [ZHANG QI / FOR CHINA DAILY]
Road accidents across China over the past three days have claimed more than 50 lives - 18 alone when a bus careered down a ravine and burst into flames in Gansu province's Ningxian county - casting a long shadow over the upcoming Spring Festival for many families.
On Friday, two separate bus crashes killed 29 people; on Saturday, seven died when a van crashed in Guangxi Zhuang autonomous region, 12 lost their lives when a bus overturned in Guizhou province and five more were killed after an oil tanker crashed on a highway in Guangdong province.
The death toll rose again on Sunday morning, after a couple, both 25, died in an accident in Wuzhou, the Guangxi Zhuang autonomous region.
They had been traveling with two relatives on motorbikes, returning home to Pingnan county. Witnesses said both died at the scene.
The cause of the accident remains unknown, and traffic police could not be reached for comment on Sunday. However, the incident, and those earlier in the weekend, have raised serious road safety concerns as the holiday approaches.
On Friday night, a bus in Gansu province's Ningxian county crashed into a ravine and caught fire, killing 16 people instantly in the inferno, with two dying later in a hospital. Initial investigations show the accident was caused by unsafe driving and overloading, authorities said.
Also on Friday, a bus carrying 29 people flipped over and crashed down a steep slope in Sichuan, killing 11 and injuring 18 others.
On Saturday morning, an overloaded bus turned over and crashed down a 100-meter slope in southwest Guizhou province, killing 12 people.
On Saturday afternoon, a tanker collided with 10 cars on the Shaoguan section of the Beijing-Hong Kong-Macao Expressway in Guangdong province, killing five people.
The catalog of road carnage comes as the country's transportation and traffic authorities are already planning how to handle what is expected to be a massive rise in traffic on China's main highways during the Spring Festival.
It is expected that more than 3.1 billion trips will be made in private cars or buses, averaging 77.41 million a day, 9 percent more than last year.
Xinhua contributed to this story.
zhaolei@chinadaily.com.cn