Slippery streets result in accidents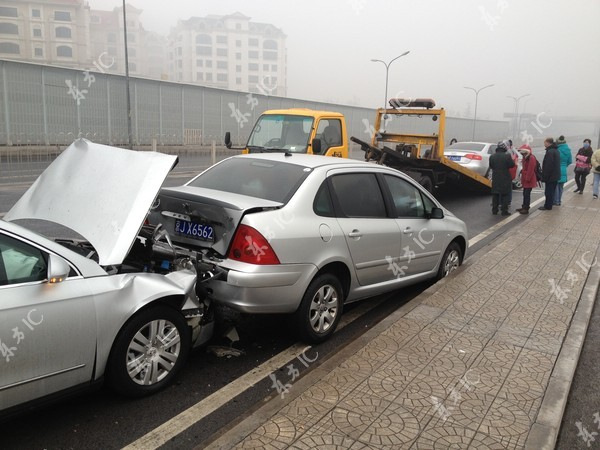 Cars are removed from a slippery road after an accident in Wangjing, Beijing, on Thursday morning. Freezing rain and prolonged in Beijing haze caused over 2,000 traffic accidents. [Provided to China Daily]
Icy rain leaves streets unsafe for pedestrians
Freezing rain and prolonged haze in Beijing on Thursday caused more than 2,000 traffic accidents leaving two people dead, and hospitals were crowded with people injured in falls on Thursday.
Cold air will sweep across central and eastern China from Thursday night and remove smog, according to weather authorities.
More than 2,000 accidents happened in Beijing by 11 am on Thursday because of icy roads and low visibility, according to Beijing Traffic Management Bureau.
The Beijing Meteorological Bureau issued a warning on Thursday morning, saying the icy rain that started on Wednesday night will form ice on the surface of the road, and the ground temperature was below zero.
A collision involving dozens of cars occurred on Thursday morning on an expressway in Beijing's Chaoyang district. No casualties were reported.
"When I arrived at the scene at about 11 am, the road had been cordoned off by the traffic police," said a photographer in Beijing, who preferred to remain anonymous. "The traffic had resumed normal operation, and only two or three damaged cars were in sight."
Dozens of accidents also happened on Beijing-Chengde Expressway, according to media reports.
In neighboring Tianjin municipality, 119 accidents occurred on the city's expressways, injuring three people.
At least 86 flights, including 11 international flights, had been cancelled at the Beijing Capital International Airport by Thursday evening, according to the airport. More than 100 flights were cancelled at the airport in the past few days due to heavy smog.
A number of people were injured on the slippery roads after the icy rain, and Beijing hospitals become crowded with patients.
"By 3 pm our doctors had received about 210 patients, most of them injured from slips," said Mei Xue, deputy chief of the emergency care department of Chaoyang Hospital.
Mei said the sudden increase in patients on Thursday had caught them unprepared.
"Our three emergency room doctors could only cope with a fraction of the patients, and we added another six surgeons in the morning, but still we have to keep patients waiting," he said.
Mei said most the patients had injured wrists, waists or ankles.
"I slipped and fell on the road minutes after I went out in the morning," said Han Keping, a 75-year-old Beijing resident.
"But I had to wait until 3 pm to get a bandage on my right hand. I did not expect there would be so many people here, and I was anxious."
Xue Li, another 64-year-old resident, said she called emergency number 120, after falling on the ground when she went out to shop in the morning, but she was told no ambulance was available.
"I was too upset to wait, so I took a taxi to the hospital," she said.
Doctor Liu Qinghe suggested people should not move if they suffer serious injury after falling, but instead should ask for help to be taken to hospital as soon as possible.
Hou Zhiyou, an emergency doctor at the China-Japan Friendship Hospital in Beijing, said on Thursday that he received more than 20 patients with bruises or bone fractures.
More than 30 patients suffering from bone injuries were waiting in long lines for X-rays in the hospital.
"The cleaners should have cleared the snow and ice from the road earlier so my mother might have been prevented from falling on the ground," said Daisy Zhao, a Beijing resident, as she sat with her mother waiting for an X-ray.
The thick smog and haze that have shrouded central and eastern parts of the country for four days will diminish from Friday, the National Meteorological Center and the Ministry of Environmental Protection said.
Contact the writers at wangxiaodong@chinadaily.com.cn and ouhailin@chinadaily.com.cn
Wu Wencong, Ji Yerong and Gao Liangliang contributed to this story.