Just sleep on it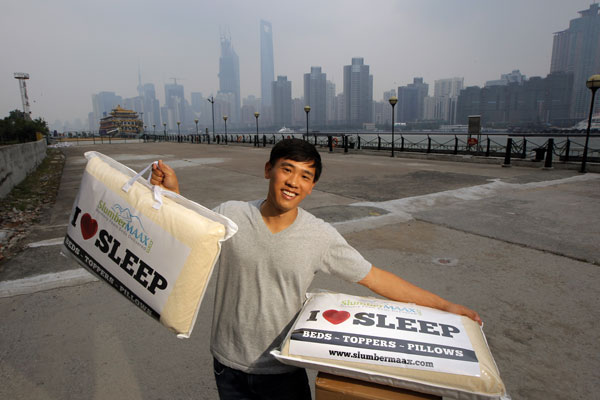 To Spencer Jan, a hard bed is an opportunity for dreams to come true. He founded SlumberMAAX, a Shanghai-based bedding provider and has spread the business to expat communities across China. Gao Erqiang / China Daily
Spurred on by a sleepless night and expat complaints about hard mattresses, Spencer Jan has forged a lucrative business in China. Todd Balazovic reports.
Spencer Jan has no trouble getting to sleep at night - though it didn't always used to be that way.
In fact the founder of SlumberMAAX, a Shanghai-based bedding provider, had many restless nights when he first began working in China.
"The beds were hard," Jan says.
It's not just a result of penny-pinching landlords that has led to an abundance of rock-hard beds in China. Going back as far as AD 121, the kang, a hard clay bed with a built-in heating area beneath, was once at the center of the traditional Chinese household. They were often topped with pillows made of porcelain and jade.
In more modern times, the tenets of traditional Chinese medicine preach that having a harder bed provides various health benefits, particularly in helping with chronic back pain.
The result is that many beds found in China lean more toward tough than tender - much to the chagrin of expats who are used to softer sleeping conditions back home.
But while to many expats a hard bed is merely a reason to moan about the rigors of expat life, to Jan it was a dream come true.
Seeing the need to offer expats an alternative, Jan began selling memory foam mattresses, a dense polyurethane which reacts to body heat and molds to the sleeper's body. They are produced in China, but almost impossible to find in stores.
The American-born Chinese first started working in China in 2005.
Shortly after, however, he shifted gears and moved to a small US-based sourcing company targeting Western markets with Chinese made goods. It was during his time at this company that Jan first encountered a solution to China's tough beds.
"One of the many projects we took on was memory foam beds. I spent a lot of time learning the ins and outs of this product and visited many factories, which helped me learn about the manufacturing process," he says.
"As we started to export these mattresses back to the US for our customer, I took the liberty of having a sample.
"Somehow, I think I got used to hard mattresses, but when I tried the memory foam mattress, it was amazing. I couldn't believe what I was missing."
Impressed with the results, Jan began talking with fellow expats and quickly found that he was not the only person who faced the problem of tough sleeping arrangements.
"The light turned on," he says.
The conversations with fellow expats led Jan to begin conducting research, though he only needed to ask around Shanghai to discover just how popular this idea would be.
"I didn't think too much about it and only conducted a small amount of market research before I dove in," Jan says.
Contacting the factory directly and using knowledge of setting up websites, Jan invested his own money into buying his first batch. Within the first year of experiencing his sample mattress he had founded SlumberMAAX.
Initially Jan was only selling to a close-knit community of expats living in Shanghai and delivering each mattress personally to the person's door. As word got out about his business, sales blossomed.
Since then, his business has spread to expat communities across China.
"Almost three years later, we're still seeing great growth and demand among China expats for our products," he says.
Catering to the growing demand, Jan has expanded his selection beyond just mattresses, and now offers everything from goose down pillows to memory foam beanbags.
It's the tight-knit nature of China's expat community that has helped his business spread, Jan says.
With his mattress prices ranging from 4,000-6,000 yuan ($640-960) and China's several hundred thousand strong expat population - according to the 2010 census there were 593,382 foreigners living in China - business is good.
Although the price tag may be several times higher than a landlord would spend, for expats who've tried similar products in their home countries they are cheap.
But most importantly for Jan, it's a chance to pursue an original start-up idea while helping expats sleep easy.
"It was a great feeling and I knew that SlumberMAAX was more than just a mattress company - it was a platform to welcome and help newcomers, as well as seasoned expats who had just landed in this foreign country to feel just a little bit more at home. "
Contact the writer at toddbalazovic@chinadaily.com.cn.