National Museum hosts exhibition with works from Met
The National Museum of China is hosting an exhibition with 130 works from New York's Metropolitan Museum of Art.
The exhibition, titled Earth, Sea, and Sky: Nature in Western Art, highlights the relationship between nature and people through a wide variety of media including paintings, tapestry, silverware, ceramics and bronze.
The artworks on display date from 3,000 BC to modern times, and feature such masters such as Van Gogh, Monet and Turner, as well as anonymous artists of ancient and medieval times.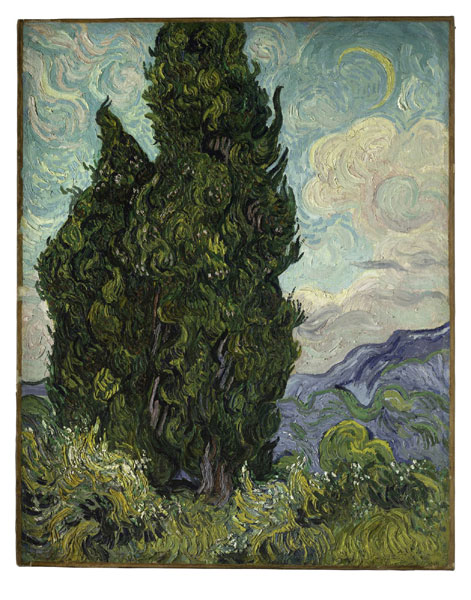 Cyprès by van Gogh is displayed in the National Museum of China in Beijing. [Photo/ China Daily] 
The artworks are on loan from the Met's 12 curatorial departments with holdings of Western art, so that Chinese audiences can get to know artistic traditions they may be less familiar with.
The Met's director Thomas Campbell hopes the exhibition not only acquaints the Chinese public with the masterpieces, but also that it exposes them to the breath and quality of the museum's collection.
The exhibition also offers a better viewing experience by putting a mobile bar code scanner on the illustration board of every exhibit. The code connects to a more detailed introduction of the work of art and its creator, both in Chinese and English.