System needed to help patients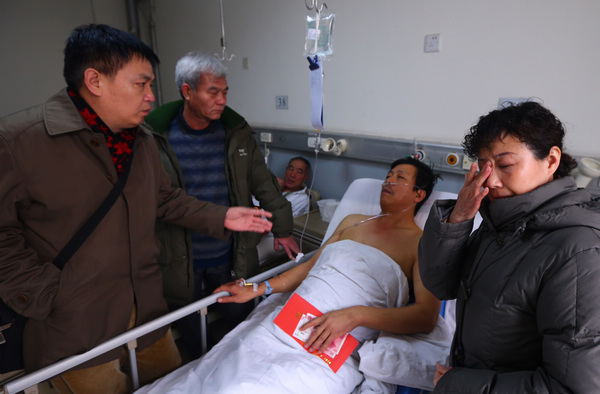 Li Shuwen receives money donated by couples whose only child has died at Beijing's You'anmen Hospital on Sunday. A road accident left Li and his wife Liu Juan, also a childless couple, seriously injured. [CHAI CHENG / FOR CHINA DAILY]
A recent road accident that left a Beijing couple seriously injured has renewed calls to establish a system that can provide financial and other help to couples who have lost their only child.
Liu Juan, 52, was taking an evening stroll with her husband Li Shuwen on Jan 24 when they were hit by a metal height-limit rod, which had been knocked over by a truck.
She remains in a coma in intensive care at You'anmen Hospital, with a brain injury, while her husband Li suffered four fractured ribs and a bruised lung.
Liu Fuli, Liu's brother, is the only relative who has visited the couple.
"The doctor told me she is still in critical condition and the best result for her may be that she remains in a vegetative state for the rest of her life," he said.
"Li's condition is much better than my sister's, but we dare not tell him yet what her condition is."
The couple's only daughter died in a traffic accident at the age of 14 in 2001.
They were too saddened to try for another child, and both were just in their 40s at the time, Liu said.
"Li is an orphan, so he has no family members to help him. On my sister's side, our mother is in her 80s and our oldest brother has cancer, so I have to be responsible for signing all the surgery papers," said Liu, who also has a medical condition after having a heart stent installed.
Liu says he is already feeling the pressure of having to cover the couple's medical expenses.
"The medical fees have reached 90,000 yuan ($14,500) and if my sister stays one more day in ICU, I will be given another bill for about 8,000 yuan," he said.
"Next week, I have to borrow money to keep them in the hospital," he said.
He added that the driver of the van involved in the accident visited the couple and gave him 3,000 yuan toward the medical costs.
No official figures are available on how many parents in China have lost their only child, but experts suggest it could be as many as 2 million.
Shi Hui is a Beijing mother whose only son died from lymph cancer as a sophomore in college two years ago.
She is the administrator for a group account on QQ dedicated for parents who have lost their only child.
She has urged those who have also lost their single child to donate to the couple.
"We went to the hospital on Sunday and collected about 11,000 yuan for them," she said.
"Their experience upset us, but also reminded us an accident like this can occur to any of us.
"Society is paying more attention to this kind of case, and the government has provided monthly living subsidies in the past — but a lot of problems remain unsolved," said Shi, who is now campaigning for the creation of a fund for childless parents who face huge medical and nursing expenses.
Du Peng, a director of the Gerontology Institute at Renmin University of China, said the government should speed up the creation of a support system for parents in similar situations.
A legal framework must be set up, for instance, to allow legal guardians to be chosen to protect the interests and rights of older people, who become too old or sick to take care of themselves, Du said.
The latest amendment of laws governing senior citizens' rights, which is expected to take effect in July, will provide the legal basis for the government to act, he added.
Contact the writer at hedan@chinadaily.com.cn