Consensus on DPRK reached, says US envoy
The United States and China exchanged views over the latest developments in the Korean Peninsula nuclear issue on Friday, as the Democratic People's Republic of Korea threatened to attack Seoul if the Republic of Korea participates in UN sanctions.
China called for calm from all parties at this sensitive moment.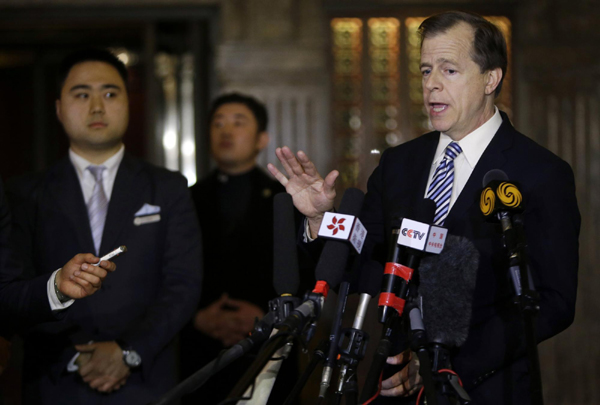 US Special Representative for DPRK Policy Glyn Davies speaks to the media in Beijing, Jan 25, 2013. [Photo/Agencies]
The US and China have "achieved a very strong degree of consensus", Glyn Davies, the US special representative for DPRK policy, told reporters in Beijing after having discussions with Chinese officials on "all aspects of the issue".
"We come here in the wake of some dramatic steps," he said, referring to Pyongyang's earlier threat to take "physical countermeasures" against Seoul. He added that the comments were "troubling and counterproductive".
He added that the US will focus more on Pyongyang's actions rather than its words, after the DPRK said it planned another nuclear test.
Davies held talks with Liu Jieyi, deputy head of the Chinese Communist Party's international department, Vice-Foreign Minister Fu Ying, and Wu Dawei, special representative of the Chinese government on Korean peninsular affairs.
Both sides agreed that "a nuclear test would be troubling and a setback to efforts to denuclearize the Korean Peninsula", he said.
They also agreed that UN Security Council Resolution 2087, which passed earlier this week and expanded sanctions against the DPRK, was an "appropriate response and an important and strong response" to Pyongyang's rocket launch last month.
Huang Youfu, a professor of Korean studies at Minzu University of China, said the US is likely to persuade China to join sanctions against Pyongyang during the discussion.
Wang Fan, a researcher on DPRK issues at China Foreign Affairs University, added that the US hopes to push more responsibility to China on the issue.
He added that collaboration between China and the US on the issue plays an important role to resolving the tension.
The DPRK threatened to attack the ROK if Seoul joins a new round of UN sanctions against Pyongyang, DPRK's Committee for the Peaceful Reunification of Korea said on Friday.
"'Sanctions' mean a war and a declaration of war against us," the committee added.
The statement was a warning to Seoul's incoming government, said Huang Youfu.
But Wang said the statement is directed at the current government of Lee Myung-bak, who has taken a strong stance against the DPRK.
Analysts said fiery words were a customary practice of the DPRK.
CFAU's Wang said: "Pyongyang's strong words cannot be overinterpreted. It has always used strong words in response to sanctions and seeks fair treatment in bilateral and multilateral negotiations."
Responding to Pyongyang's declaration, Washington said on Thursday that it has slapped sanctions on several entities and individuals from the DPRK.
"To implement our obligations pursuant to UNSCR 2087 and to impede the DPRK's illicit weapons of mass destruction and ballistic missile programs," the US government designated several entities and individuals "directly tied to Pyongyang's proliferation activities," according to a statement issued by the State Department.
The sanctions freeze all assets these individuals and entities have under US jurisdiction, and the individuals are prohibited from engaging in transactions with any US enterprises and individuals.
CFAU's Wang said this sanction targets the DPRK's possible nuclear test, but may not wield a big influence over Pyongyang's economic development.
The DPRK used to sell a lot of its mineral reserves for foreign exchange, which is essential for its nuclear program and economical development, and the new sanctions makes it more difficult for Pyongyang to do that, Huang said.
Agence France-Presse contributed to this story.