XISHUANGBANNA, Yunnan - Chinese police Saturday started joint patrols with their counterparts from Laos, Myanmar and Thailand to maintain security along the Mekong River, a major transport passage in the region.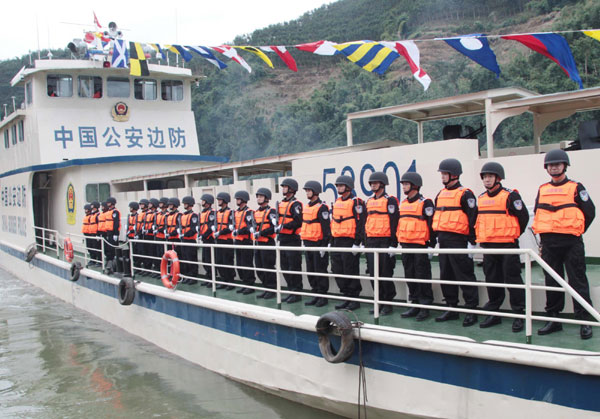 A Chinese patrol vessel carrying special police departs from Guanlei Port in Xishuangbanna Dai autonomous prefecture in Southwest China's Yunnan province, Dec 10, 2011. [Photo/Xinhua]
The joint patrol marked the restoration of international shipping services on the Mekong River that had been suspended since deadly attacks on Chinese cargo ships on October 5.
Escorted by five joint patrol boats, ten cargo vessels set sail from the Guanlei Port in Xishuangbanna of southwest China's Yunnan province at the launching ceremony Saturday morning.
"I have nothing to worry about now with the patrol boats escorting the cargo vessels," said Lu Huarong, waving farewell to his son, captain of one of the cargo ships.
The patrol boats are equipped with heavy machine guns and 10cm-thick protective walls, while the police officers are equipped with automatic rifles and bullet-proof life jackets.
"With the protection, the resumption is a new starting point for the international shipping of the Mekong River," said He Jingtao, vice director of Xishuangbanna's maritime bureau.
"It will bring bright prospects for economic growth and people's exchanges in countries along the river and make the river a golden international waterway that is really safe, peaceful and friendly," He said.