Dollar assets concerns eased
Updated: 2011-08-15 07:08
By Cheng Guangjin and Cui Haipei (China Daily)
| | | | | | | | | | | |
| --- | --- | --- | --- | --- | --- | --- | --- | --- | --- | --- |
|   | | Comments() | | Print | | Mail | | Large Medium  Small | 分享按钮 | 0 |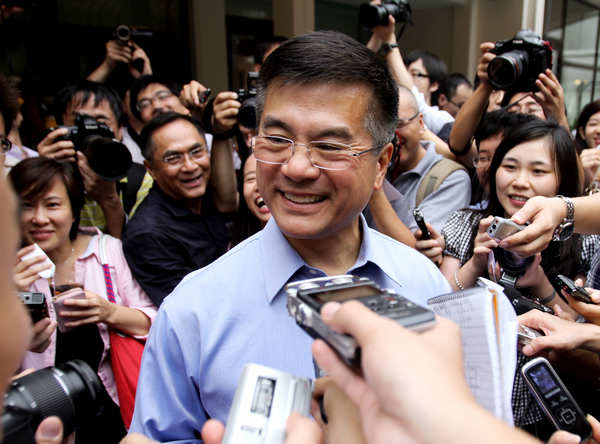 New US ambassador to China Gary Locke is surrounded by journalists outside his residence in Bejing on Sunday during his first meeting with the media after arriving on Friday night.[Jiang Dong / China Daily]
Locke emphasizes importance of bridging differences
BEIJING - China's dollar investments in the United States remain safe despite concerns following the credit rating downgrade, Gary Locke, the new US ambassador to China, said on Sunday.
Since Standard & Poor's cut its credit rating for long-term US debt in early August, Washington's fiscal policy, and the uncertainty it has caused for Beijing's large holdings of dollar assets, have been under fire in the Chinese media.
Beijing has urged Washington to take "responsible" measures to raise market confidence in the dollar and US government debt.
Much of Beijing's $3.2 trillion foreign exchange reserves are invested in US government bonds.
According to the US Treasury Department, China, the largest foreign holder of US Treasury bonds, increased its holdings by $7.3 billion to $1.16 trillion in May, the second straight month it increased them.
Asked about Chinese disquiet over US credit worthiness, Locke said President Barack Obama and Congress had mapped out a "path ensuring the fiscal integrity of the US".
He said US Treasury bonds were still finding buyers despite the downgrade.
"It's a clear indication that investment in the US is safe, secure and that the economy, while having its challenges, is still strong," he said during his debut meeting with members of the media outside his Beijing residence.
The former US commerce secretary arrived in Beijing on Friday night.
"My wife and our children are very excited to be moving here to build new friendship between the people of the US and China, and to continue to expand our two countries' growing cooperation and collaboration on key bilateral and international issues," he said.
The 61-year-old Locke was nominated by Obama in March after Jon Huntsman stepped down to seek the Republican nomination for the 2012 presidential election.
"The most important is to promote stronger and better understanding between the people of the US and China at all levels," Locke said.
He noted that there are differences between China and the US. "We cannot ignore them."
But he urged both sides to take opportunities to form a closer relationship that will benefit both people and the world.
"China has a unique history, a unique culture, a unique philosophy, and we need to understand that difference. "Both people and both governments need to understand those differences if we are to be more successful in forging more collaborative and cooperative relationships," Locke said.
Locke arrived only a few days before US Vice-President Joe Biden's Aug 17-22 visit. Biden is expected to exchange views with Chinese leaders on issues such as South China Sea disputes, US arms sales to Taiwan and US debt.
Asked whether the US will continue to sell arms to Taiwan, which has long been a disrupting factor in China-US relations, Locke said US policy with respect to Taiwan was very clear and that will not change, without elaborating on it.
As a child of Chinese immigrants to the US, Locke is the first Chinese-American ambassador to represent the US in the land of his ancestors.
Even before arriving in Beijing, photos appeared online of Locke queuing at a Seattle airport coffee shop trying to use a coupon without security guards and secretaries.
Asked about the pictures, and whether he would take to China's Internet to talk directly to users, Locke said: "We look forward to using all forms of communication, including blogging and the electronic media, to spread the word about our mission here in China."
Shen Dingli, a professor at the Institute of International Studies affiliated to the Shanghai-based Fudan University, said Locke must work hard to prevent relations from retrogressing following US arms sales to Taiwan and Obama's meeting with the Dalai Lama, as well as trade friction.
Shen said it will not be an easy job for Locke.
He also suggested that Locke would take a more confrontational stance than his predecessor to show that his Chinese origins do not make him appear more pro-China, as some have predicted might happen.