Men's football team eye knockouts after crucial win
Updated: 2011-08-15 18:20
By Wang Qingyun (chinadaily.com.cn)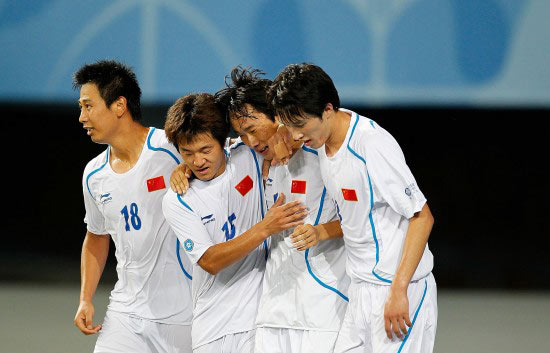 Fan Zhiqiang (2nd R) is congratulated by his teammates after scoring a goal against Colombia during a men's group stage football game at the 26th Summer Universiade in Shenzhen, Aug 14, 2011. [Photo/sports.sina.com]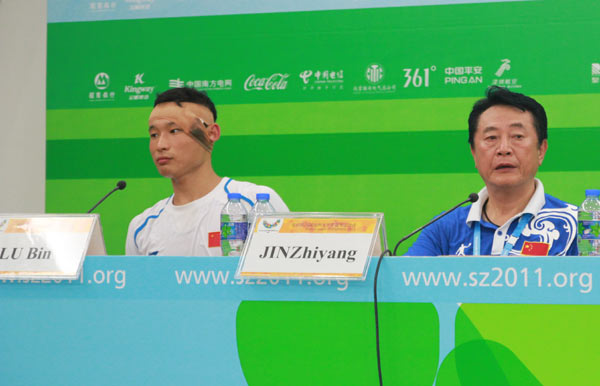 Jin Zhiyang (R), the head coach of the Chinese men's Universiade football team, and Chinese captain Lu Bin (L), sporting a bandage after being treated for a head injury, attend a press conference after the team's 3-0 victory over Colombia in a men's group stage football game at the 26th Summer Universiade in Shenzhen, Aug 14, 2011. [Photo by Wang Qingyun/chinadaily.com.cn]
The Chinese men's football team is one-step closer to advancing into the knockout stage of the Universiade competition after beating Colombia 3-0 in a group game last night.
The host team started the same 11 players as played against Namibia last Thursday, adhering to an identical 4-4-2 formation.
Midfielder Fan Zhiqiang from Tianjin Normal University, also a player in the Chinese Super League team Tianjin Teda, who recently had a two-year suspension for being involved in a referee-chasing scandal lifted, got a penalty kick awarded for his team and scored twice.
In the 30th minute, Fan was fouled by a Colombian defender while trying to score a goal and the Chinese team was awarded a penalty kick. Captain Lu Bin did not disappoint the enthusiastic home fans and stepped up to convert the penalty into the net to open the scoring.
In the last minute of the first half, Colombia's forward Castro Betancur broke through China's defense and made a powerful shot, but was blocked by goalie Liu Tianxin.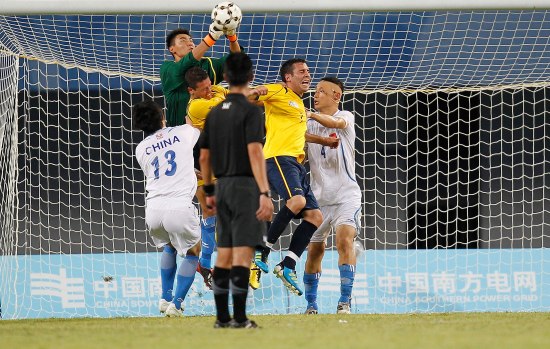 China's goalkeeper Liu Tianxin (top) saves a shot from Colombian players during the men's group stage football game at the 26th Summer Universiade in Shenzhen, Aug 14, 2011. [Photo/Xinhua]
Colombia made two substitutions and became more offensive at the beginning of the second half, but the Chinese Fan extended the lead to 2-0 by scoring in the 68th minute, leaving local fans chanting "3 to 0", before he broke through Colombian defenders and thrusted another goal in the 82nd minute.
China's head coach Jin Zhiyang said in a news conference after the game that the team had tried its best, though his team's technique was not as good as their Colombian counterparts.
Colombian head coach Zapata Avendano congratulated China on their victory and mentioned the difference of styles between the two teams, indicating that Colombia didn't adapt well to China's fast pace.
Jin also said the team had learnt a lesson from the last game, and his young players were more aware of preserving their strength throughout the game. He thanked the media and fans for supporting the team, and hoped "China's football will keep getting better."
Video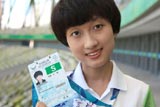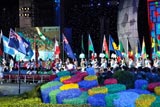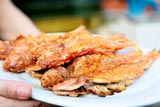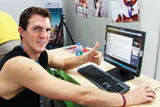 About Shenzhen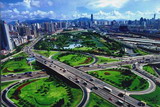 Shenzhen is located at the southern tip of the Chinese mainland on the eastern bank of the mouth of the Pearl River and neighbors Hong Kong.

The brainchild of Deng Xiaoping, the country's first special economic zone was established here by the Chinese Government in 1980. It has been a touchstone for China's reform and opening-up policy since then.