Poor confidence leads to danger zone: WB Chief
Updated: 2011-08-15 08:21
(Xinhua)
| | | | | | | | | | | |
| --- | --- | --- | --- | --- | --- | --- | --- | --- | --- | --- |
|   | | Comments() | | Print | | Mail | | Large Medium  Small | 分享按钮 | 0 |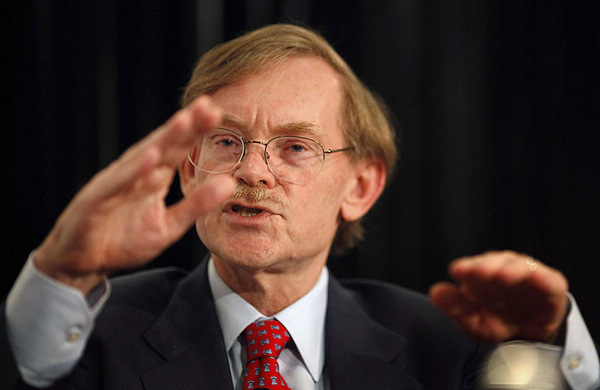 World Bank Chief Robert Zoellick gestures while speaking at the Asia Society's annual dinner in Sydney August 14, 2011. The world is going through a multi-speed recovery, about half of global growth comes from emerging markets which face different challenges, such as economy overheating and inflationary pressures, Zoellick said on Sunday. [Photo/Agencies] 
SYDNEY - The head of the World Bank warned here on Sunday that the global economy is entering a new and dangerous phase.
On a cold Sunday night in Sydney, World Bank Chief Robert Zoellick said he would back emerging economies to help global markets pull through what he calls a time of danger.
Speaking at the Asia Society's annual dinner in Sydney, Zoellick said the world was enduring a whacky, multi-speed recovery which the world could thank emerging markets for countering the effects of Europe's sovereign debt.
He said: "I've been observing the nature of downturn and recovery is that it's been unusual in recoveries over the post World War II period in that it's a multi-speed recovery which you see as in emerging markets the recovery has been quite strong... while the major developed markets have obviously been struggling and have problems with the sovereign debt, unemployment, job creation..."
The chief of the World Bank warned the world's already troubled economic recovery is in even greater trouble, but that hope would come from the new economies.
Emerging markets, he said, are sources of growth and opportunity.
"And so part of the challenge for organizations like the G20... is how do you deal with an international economy that's changing in that nature, it's a very different world."
Zoellick said a perfect storm of events had created a leadership vacuum in the United States and Europe and the ensuing drop in confidence was a genuine economic threat.
"I think there has been a convergence of some events in Europe and the US that have led many market participants to lose confidence in the economic leadership of some of the key countries. "
Zoellick warned the lack of confidence meant that the danger was not over, he said, "Confidence is a fragile element of how any market economy works and I think those events combined with some of the other fragilities in the nature of the recovery push us into another danger zone and I don't say those words lightly."
Zoellick has again urged European leaders to tackle the debt crisis with more urgency, saying the Euro was a bit of an albatross around the neck of leaders looking to reboot their crippled currency.
"When you can't devalue your currency, it's a challenge how to return to competition.  What you'll see in the near term what central banks can do is to provide liquidity but it doesn't deal with the fundamentals."
Zoellick is in Australia for an official visit and is scheduled to meet with Australian Prime Minister Julia Gillard.
Hot Topics
The European Central Bank (ECB) held a conference call late on Sunday ahead of the market opening, pledging the ECB will step in to buy eurozone bonds with efforts to forestall the euro zone's debt crisis from spreading.