China's growing confidence is clear
It's easy to be impressed with the material progress China has made in recent years. Having lived in Shanghai and Beijing over five years has meant living in the de facto developed world. These megacities are more advanced than some of their Western counterparts.
But looking only at the surface is to miss important parts of contemporary China's story. One of the missing angles is the attitude of the Chinese people.
No one would accuse people here of having failed to love their country in the past. One need only look at how millions of Chinese fought against a powerful military machine during the War of Resistance Against Japanese Aggression (1931-45).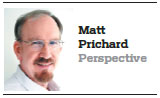 But since I've lived in China, I have noticed the growing confidence and optimism among Chinese people of different ages and social strata. It's a sense that after decades of playing second fiddle in the affairs of great nations, China has resumed its place as a world leader.
Some may compare this with the ascendancy of China at the height of the Qing Dynasty (1644-1911), during the reign of the Emperor Qianlong in the 18th century. Qianlong was a capable and cultured emperor who inherited a rich and powerful country. Yet a key difference is that the leaders of China had developed a shortsightedness that can be ascribed, in part, to the severely limited communication technology of the time.
When Qianlong came into contact with scientific and technological progress made in other countries, his inward-looking worldview made him incapable of seeing what it meant. As a result, a country that was one of the most advanced and innovative in the ancient world suffered grievously.
Fast-forwarding to the 21st century, you again see an ascendant China. But one of the crucial differences is that China's leaders have worked hard to quickly catch up to world leaders in science and technology, and in many cases have equaled or surpassed them.
Internationally, China's leaders are reaching out to the world just as some Western countries are turning inward - displaying the type of attitude that once hurt China so much. The Chinese people can point with pride to President Xi Jinping going before the United Nations and pledging 8,000 troops for a permanent standby peacekeeping force, $1 billion for a UN "peace and development fund" and $100 million for an African Union quick-response unit.
Support for world efforts to fight climate change and improve infrastructure in other countries boosts China's stature, as well.
That type of support is possible thanks to increased prosperity that is the fruit of the hard work and smarts of the Chinese people.
China also is working to better the lives of its people, both economically and by tackling the negative side effects - notably pollution - resulting from its meteoric economic rise.
As do all emerging powers, China undoubtedly is feeling its way, learning as it goes about the best ways to project its economic power and culture beyond its borders. But it is making enormous efforts, and it can be a great force for progress.
The 19th National Congress of the Communist Party of China, which opened on Wednesday, is a good time for the country to review the progress of the past five years and set its course for the next five. It is clear that not only the Chinese people but the whole world will be watching.

Editor's picks