Ambassadors enthusiastic about future

The report of the 19th CPC National Congress shows that China's internal and external policies have achieved great results under the leadership of the Party over the past five years. China's socioeconomic development index and living standards have also been significantly improved. The effectiveness of China's economic reform determines the stability of world economic development.
The report showed that the development of socialism with Chinese characteristics has entered a new era. ... It will be an era of securing a decisive victory in building a moderately prosperous society in all respects, and of moving to all-out effort to build a great modern socialist country.
China's global and historic initiatives - to establish Belt and Road Initiative and establish the Asian Infrastructure Investment Bank and Silk Road Fund - have won wide praise and support from the international community, including Kazakhstan. China-Kazakhstan relations have also entered a new stage of comprehensive strategic partnership.

The 19th National Congress of the Communist Party of China will confirm General Secretary Xi Jinping's policy on internal cohesion and international projection.
At the internal level, this policy will formulate not only measures concerning the modernization of education, the structure of small and medium-sized enterprises, anti-corruption efforts and transparency, but will also help to strengthen efforts to alleviate poverty.
On the international front, it will see China better positioned in the economic field, both regionally and globally.

This congress will be as important as the 12th National Congress of the Communist Party of China in 1982. That congress, 35 years ago, began the process of opening-up and reform, while this one in 2017 consolidates and expands those objectives, making possible the goal of a moderately prosperous society by 2020. In addition, the ongoing 19th CPC National Congress will create the conditions for strengthening China as one of the most important countries of the 21st century.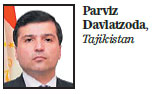 The impressive successes of the People's Republic of China in all spheres of life - and especially in the growth of the country's international prestige - have been first and foremost achieved through the political leadership of the Communist Party of China.
We consider the keynote report delivered by General Secretary Xi Jinping during the 19th CPC National Congress to be an invitation to joint development.
Tajikistan and China are good neighbors and trustworthy partners with centuries of common history and a shared future. We are fully supportive of the statement ... that "the dream of the Chinese people is closely connected with the dreams of other peoples of the world".
In the "Chinese Dream" we find elements of our own goals and the path to prosperity. In the peaceful rise and strengthening of China's economic power, we see prospects for Tajikistan's socioeconomic recovery.
Indeed, Tajikistan and China have a common destiny and common goals. For the happiness and prosperity of our peoples, we shall be together, hand in hand and shoulder to shoulder, to approach these goals.
China Daily

Editor's picks