Premier: Embrace new Thought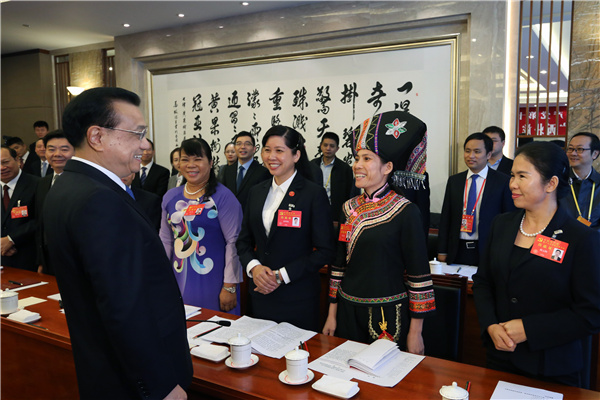 Premier Li Keqiang joined on Thursday a group discussion with the delegation of the Guangxi Zhuang autonomous region on the report delivered by General Secretary Xi Jinping at the opening session of the 19th CPC National Congress.Wu Zhiyi / China Daily
Many 'historic achievements' fulfilled in past 5 years, Li says
Premier Li Keqiang pledged in a panel discussion on Thursday to fully put into practice the spirit of the 19th National Congress of the Communist Party of China and Xi Jinping Thought on Socialism with Chinese Characteristics for a New Era.
Li, also a member of the Standing Committee of the Political Bureau of the 18th CPC Central Committee, took part in the discussion among the delegation of the Guangxi Zhuang autonomous region. He vowed to strongly adhere to the CPC Central Committee, with General Secretary Xi as its core, and safeguard its unified leadership.
The report Xi delivered to the congress summarized the achievements and experiences over the past five years, setting guidance on securing a decisive victory in building a moderately prosperous society in all respects and striving for the great success of Xi Jinping Thought on Socialism with Chinese Characteristics for a New Era, Li said.
The report is also a political declaration and action plan to direct the Party and people of all ethnic groups to move forward the socialism with Chinese characteristics to a new era, he said.
"Historic achievements made in the opening-up and reform, as well as socialist modernization since the 18th CPC National Congress, fundamentally stemmed from the strong leadership of the CPC Central Committee with Xi as its core," Li said, adding that the Central Committee has promoted historic transformation in the courses of the Party and the country.
Xi Jinping Thought on Socialism with Chinese Characteristics for a New Era, the latest achievement for the Sinicization of Marxism, is a crucial part of socialism theories and a guiding thought that the Party should uphold for a long term, Li added.
Li called for taking development as the basis and key to solve problems in the country, adhering to new concepts of development, deepening the supply-side structural reform and continuously promoting opening-up and reform. He called to further transform the government's functions and stimulate market vitality and social creativity.
He said more entities should be encouraged to start up businesses and promote innovation while more jobs, higher-quality education and medical care should be provided.
Also on Thursday, another Standing Committee member, Wang Qishan, joined discussions in the delegation from Hunan province. Wang said the Party can achieve one victory after another because it has always integrated basic principles of Marxism with the essence of Chinese traditional culture and local conditions. He called on the delegates to wholeheartedly learn the new era thought and align it with their own work.
Another member, Zhang Gaoli, pledged his support for the new era thought in discussions of the Shaanxi delegation on Thursday. Members Zhang Dejiang, Yu Zhengsheng and Liu Yunshan also pledged their support when they joined panel discussions in their own delegations on Wednesday.
huyongqi@chinadaily.com.cn

Editor's picks