Quite the sight to behold
Not even the damp and cold of an unseasonably drizzly October morning in Beijing could diminish the stirring sight of the Great Hall of the People.
This imposing building, constructed more than 58 years ago, has been the venue for the Communist Party of China's National Congress for decades. It's also a popular tourist attraction when not hosting official State functions, though I had never been there before.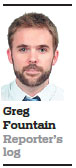 Until Wednesday, that is, when I approached the striking edifice from across the Tian'anmen Square, joined along the way by a host of other slightly sodden journalists who had been disgorged from their vehicles on the far side.
The hall's impressive bulk loomed over us as we scurried like ants beneath its tall marble columns, forming an orderly line where we would be shielded from the rain.
We were soon granted entrance to a foyer where we could properly wonder at the building's cavernous interior.
Delegates, ambassadors and members of the media milled around, awaiting the opening of the 19th CPC National Congress, until a high-pitched bell rang to signal that it was time to enter the hall's main amphitheater.
As attendees took their seats, I marveled at the immense gallery stretched out before me and had time to wonder at how this huge structure had been built in only matter of months.
Then the band struck up a note to bring me out my reverie, and I saw President Xi Jinping enter as the whole room stood and delegates clapped in unison with the music.
After the national anthem and a moment of silence, it was time for Xi to deliver a report on behalf of the 18th Central Committee of the CPC.
As he spoke, there was a palpable sense of confidence and moment.
Because here, over the coming days, the future of China will be discussed, and the country's course plotted for the next five years - if not longer.

Editor's picks