Build a strong army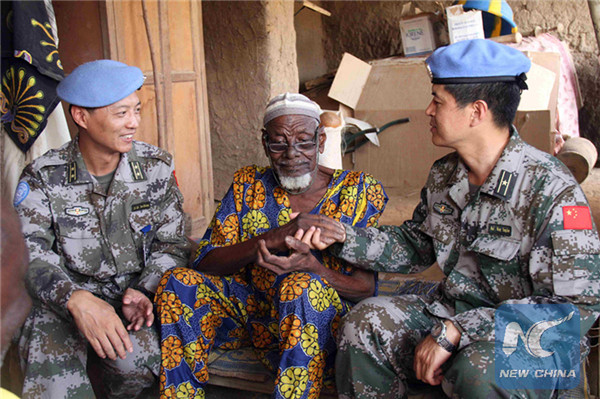 File photo of Chinese peacekeeping officers of UN Mali Mission chatting with an elder after bringing medicines to villagers in Gao, Mali, on May 27, 2015. [Photo/Xinhua]
IV. Serving the people
China must build a national strategic system and capacity in military-civilian integration, Xi said.
Upgrading integrated military and civilian development as a national strategy is a major decision made in consideration of national development and overall security, and a major measure to deal with complicated security threats and gain national strategic advantages, Xi said.
Xi also urged the armed forces to bear in mind the sacred duty of fighting for the people.
The PLA is deeply rooted in the people and its strength comes from the people. It must maintain a close relationship with the people and "go through thick and thin" with them, he said.
V. Builder of world peace
China has always been a builder of world peace, a contributor to global development, and an upholder of international order, Xi said.
The PLA will continue international military exchanges and cooperation to cope with global security challenges, Xi said. It will implement the responsibilities and duties commensurate with the country's international status and contribute to fostering a community of shared future for mankind, he said.
Sources: Xinhua, China Daily