Build a strong army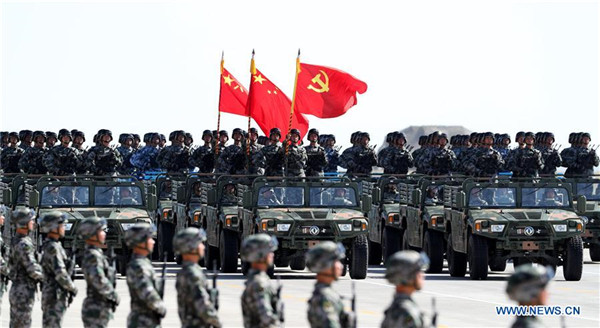 A flag guard formation consisting of officers and soldiers from the army, air force, navy and rocket force of the Chinese People's Liberation Army (PLA) attends a military parade to mark the 90th anniversary of the founding of the PLA at Zhurihe training base in North China's Inner Mongolia autonomous region, July 30, 2017. [Photo/Xinhua]
II. Party leadership
Xi reaffirmed the CPC's absolute leadership over the PLA. which is a "fundamental guarantee" for the army to maintain its great cohesion, creativity and combat capabilities.
Quoting Mao Zedong, the founder of the People's Republic of China, Xi said: "Our principle is the Party commands the guns, and we will never allow the guns to command the Party."
He ordered the PLA to always follow the command of the CPC Central Committee and the CMC."There shall be no wavering, no hesitation, and no ambiguity."
The CPC has put forward a series of new ideas and requirements concerning national defense and military building in the past five years. These theories should be constantly enriched and developed to cope with new challenges and solve new problems, he said.
III. Fight to win
Xi urged the PLA to focus on war preparedness to forge an elite and powerful force that is always "ready for the fight, capable of combat and sure to win."
The PLA must have ironclad faith, beliefs, discipline and responsibility, and retain its nature and goal as the people's army, he said.