Train design for 2022 Games goes public
CHANGCHUN - The design of the trains that will run on a new high-speed rail line linking Beijing and Zhangjiakou, co-hosts of the 2022 Winter Olympics, was unveiled in Beijing on Tuesday.
The Olympic trains will be even "smarter and greener" than the Fuxing bullet trains that were put into service on the Beijing-Shanghai high-speed rail line in September, according to the Chinese maker of the rail cars, CRRC Changchun Railway Vehicle Co.
The company said the new trains were designed specifically for the Winter Olympics and feature a media carriage with Wi-Fi service and TV screens for live broadcasting, an athlete drug-testing area and a storage area for winter sports equipment.
CRRC Changchun also produced subway trains for the Rio Olympics in Brazil and operated the system smoothly for the duration of the Games last year.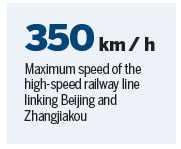 In April 2016, construction began on the world's first ballast track, which is designed for speeds up to 350 kilometers per hour between Beijing and Zhangjiakou. The project is scheduled for completion by the end of 2019 and will shorten the trip between the two cities from the current three hours to just one.
Construction also began in 2016 on a 53.2-km extension of the Beijing-Zhangjiakou railway to Hebei's Chongli district, where most of the Olympic skiing events will be held. The trip from Zhangjiakou to Chongli will take 25 minutes.
Beijing and Zhangjiakou won their joint bid to host the 2022 Winter Olympic Games in July 2015.
Xinhua

Editor's picks