VMware banks on innovation for growth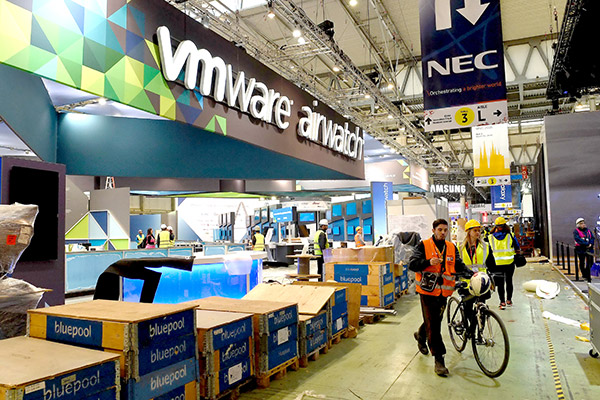 People walk past a stand of VMware at an industry expo in Barcelona, Spain. The company is undergoing a business transition to grow its cloud products and services, especially in countries like China. [Photo/Agencies]
VMware Inc, a California-based cloud and virtualization software provider, will step up efforts to tap into the Chinese market as its local joint venture is attracting more State-owned enterprises as clients, a top company official said.
The move is part of the company's broad push to invest $1 billion in innovation and talent development in China, said VMware CEO Pat Gelsinger.
"Our joint venture with the State-owned Sugon Information Industry Co Ltd became operational one and a half years ago. We are broadening product portfolios and attracting early customers that prefer China-provided technologies," Gelsinger said in an exclusive interview with China Daily.
The $20 million joint venture in Chongqing was established to develop localized cloud systems for Chinese customers. Beijing-based Sugon holds a 51 percent stake in it, with VMware accounting for the rest.
"We don't exclude the possibility of setting up more joint ventures with Chinese partners. This model is an important strategy for our local business," Gelsinger said, without disclosing details.
According to him, China is one of VMware's most important markets globally, and the company is actively involved in driving the development of cloud computing and business mobility technologies with partners such as Lenovo Group Ltd and Inspur Group.
Hu Youwen, a Shanghai-based analyst from Essence Securities Co Ltd, said setting up joint ventures will help VMware better deliver cloud technologies tailored for Chinese clients, including information security software that will pass scrutiny review in the government procurement sector.
VMware is undergoing a business transition to grow its cloud products and services. The company is aiming to beef up its presence in software data centers, improving virtual network software and its storage and automation management businesses.
"We are committed to having our cloud services available on major Chinese public cloud providers such as Alibaba Group Holding Ltd. But there is no specific schedule at this moment," Gelsinger said.
"As they expand presence in foreign countries, we also want to partner with them globally. I am quite impressed with Alibaba's rapid emergence as an important cloud player," the engineer-turned-executive said.
VMware announced in 2014 that it would invest $1 billion in China in the next couple of years. Now, it has hired about 1,000 employees in the world's second largest economy and it is partnering with local first-class institutions such as Tsinghua University and Zhejiang University on research and development.
The company plans to bring VMware Cloud on AWS, a cloud service offered in collaboration with Amazon.com Inc, to China next year, in a move to accelerate local enterprises' digital transformation process.