China's cross-border e-commerce expected to hit $1.32t in 2018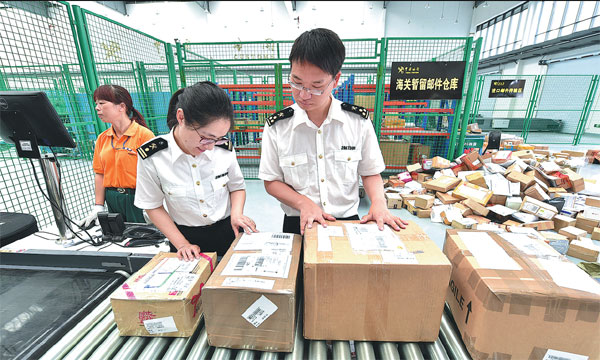 Customs officials in Yiwu, Zhejiang province, inspect e-commerce parcels from South Korea. [Photo/China Daily]
Chinese cross-border e-commerce transaction reached 6.7 trillion yuan ($1.01 trillion) in 2016, up by 31.6 percent, chinanews.com reported Sunday, citing an index released at a forum held in Shanghai.
The Chinese Cross-Border E-commerce Index also predicted that by 2018, value of China's import and export transaction via e-commerce, including retail and business-to-business, might hit 8.8 trillion yuan.
According to the index, people born in the 1980s were the major buyers, accounting for 59 percent of the cross-border orders in 2016, while those born in the 1990s made up 23 percent and those born in the 1970s accounted for 14.4 percent.
Most of these buyers were highly educated, employed in big corporate and had kids.
In the year 2016 and 2017, the best-selling goods were cosmetic products, baby-mummy products, shoes, clothes, health products, accessories and suitcases.
Shanghai, Beijing and Hangzhou are top three locations where people favored cross-border e-commerce. Shanghai consumers accounted for 11.9 percent of the entire cross-border buyer population, while Beijing consumers accounted for 11.1 percent and Hangzhou consumers for 3.8 percent.