Bikes among boosters of BeiDou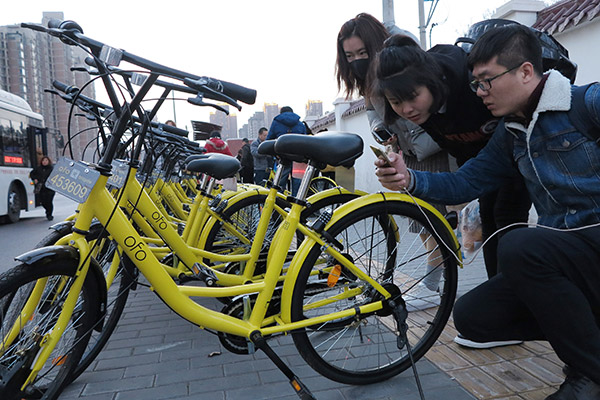 Riders scan ofo bikes in Xi'an, Shaanxi province. [Photo/China Daily]
China's BeiDou Navigation Satellite System will see wider civilian application in the coming two years both at home and abroad, as the domestically developed system is increasingly used in shared bicycles, logistics, precision farming and other industries that demand high-accuracy positioning, a new report said on Wednesday.
The growth of bike-sharing has rapidly boosted the use of BeiDou in the transportation sector, creating a 17 billion yuan ($2.5 billion) market for that type of location-based services by 2020, according to the report, released by the Global Navigation Satellite System and Location-based Services Association of China.
Mobike, a major bike-sharing company, uses smart locks that support both GPS and BeiDou. One of its big rivals, Ofo, said in April that it would use BeiDou-enabled locks.
BeiDou is the world's fourth navigation system based on satellites, among the ranks of the United States' GPS, Russia's GLONASS, and the European Union's Galileo.
In 2016, the output of China's navigation system and satellite location-based market-including sales and other associated economic activity-hit 211.8 billion yuan, up by 22 percent from a year earlier, according to the report.
BeiDou accounted for about 70 percent of the nation's market share of chips, equipment, software, algorithms and other services directly related to satellite navigation in 2016.
China plans to launch six to eight more satellites this year as part of its broad effort to expand the BeiDou network to cover countries involved in the Belt and Road Initiative by the end of 2018.
"As BeiDou expands its overseas reach, it will be increasingly popular in the logistics industry. Ships, for instance, can use it to position themselves while sailing across oceans to European countries, no longer limited to Southeast Asian regions," said Miao Qianjun, secretary-general of navigation services association.
The satellite system is already being used to help track vehicles in Singapore and Indonesia, Miao said.
In 2016, about 510 million satellite-navigation-enabled smartphones were sold in China, with more than 30 percent of them armed with BeiDou's service, reflecting the enormous potential of the market, the report said.
This year "will see a boom in BeiDou's applications in precision farming, drones, mapping, gas and other industries that demand high-accuracy positioning", Miao said.
Farmers can use BeiDou-enabled tractors to plow the soil and drones using BeiDou to sow seeds, which can boost efficiency and better distribute resources.
The report said BeiDou's farming applications have spread from Heilongjiang province to Beijing, Liaoning, Shanxi, Hubei and other provinces across China.