DJI, Qianxun partnership to promote the BeiDou system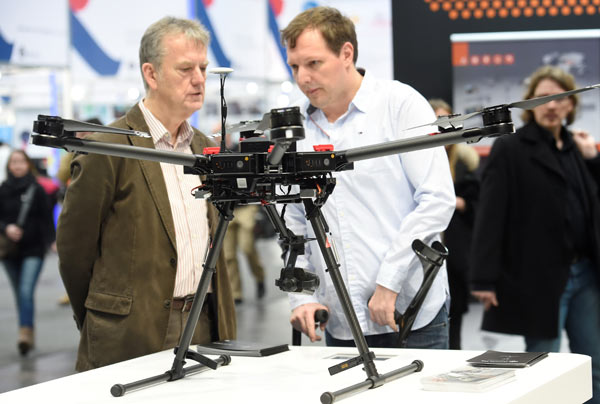 Visitors look at a Matrice 600 PRO drone at the booth of Chinese company DJI Innovation Technology Co at CeBit, the world's biggest computer and software fair, in Hannover, Germany. [Photo/Agencies]
Drone manufacturer DJI Innovation Technology Co and Qianxun Spatial Intelligence Inc, a company that uses China's homegrown BeiDou Navigation Satellite System for location and data analysis services, have announced a strategic partnership to promote the application of the navigation system in the drone industry.
The partners are bullish about the prospects for drones, especially agricultural models, used to spray pesticide, and say that BeiDou's highly accurate positioning service is one of its major advantages, especially in agriculture.
Cao Nan, vice-president of DJI, said: "There is still a lot of room for the two sides to cooperate in more fields, including inspection, public safety and mapping."
Cao added the cooperation will make agricultural drone users enjoy a stable, reliable and high-accuracy service. Moreover, the two companies will work together to explore the standard operating mode of agricultural drones.
Qianxun is a joint venture established by China North Industries Group Corp, the largest defense equipment manufacturer in the country and e-commerce giant Alibaba Group Holding Ltd in 2015, with registered capital of 2 billion yuan ($290 million), to help develop BeiDou.
Chen Jinpei, CEO of Qianxun, said it will continue to promote the construction of the BeiDou ground base enhancement network, and provide a commercial high-accuracy location and data analysis service in the fields of automobiles, bike sharing, mobile phones and drones.
Shenzhen-based DJI launched the RTK (real-time kinematic) version of the agricultural drone MG-1S, which can perform the high-accuracy positioning of farmland and pesticide spraying through access to the service provided by Qianxun.
The RTK service network covers 18 provinces and municipalities, and will expand to the whole country in the future. Priced at 23,000 yuan, the RTK version of MG-1S is expected to start shipping in the second quarter of this year.
DJI, claiming to account for 70 percent of the global consumer drone market, is devoting a great deal of attention to industry-level drones.
In November, it launched an upgraded agricultural drone, the MG-1S, which is equipped with an advanced flight control system, radar and sensors.
"Industry-level drones have a higher demand for technologies, and in turn, the applications in industries encourage drone manufacturers to improve their technological levels," said Pan Xuefei, a senior analyst at market research firm International Data Corp.
Pan said high-accuracy positioning is an important function for drones, and there are broad prospects for its application.