DJI launches upgraded agricultural drone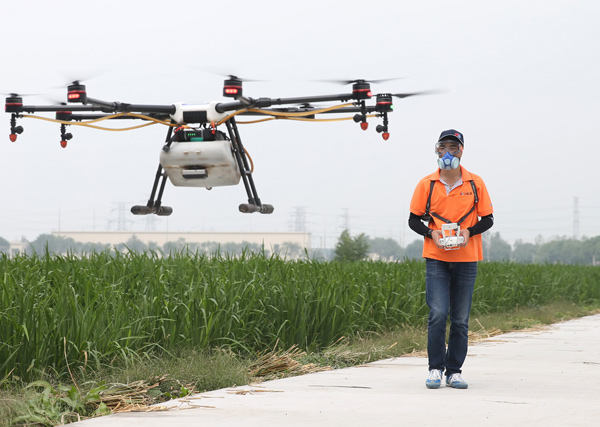 A worker uses a drone produced by drone maker DJI to spray pesticide on fields in Shanghai. [Photo/Xinhua]
DJI Innovation Technology Co, China's largest commercial drone manufacturer, launched an upgraded agricultural drone, the MG-1S on Monday and announced a series of financial services to support the drones' purchasing, operation and related training.
Equipped with an advanced flight control system, radar and sensors, the MG-1S represents a breakthrough in flying stability, precision spraying and operational efficiency, and is capable of designing spraying routes and working automatically.
In November 2015, Shenzhen-based DJI launched its first agricultural drone, the MG-1, marking its diversification into the industry-level drone market.
The company said sales of MG-1 in Chinese market had reached more than 2,500 units so far, accounting for 70 percent of the domestic farm-specific drone market. It has set up more than 200 sales service stations in more than 30 provinces.
Priced at 42,000 yuan ($6,071), the latest MG-1S is expected to start shipping in the first quarter of 2017.
Cao Nan, the sales director of DJI's global agricultural drones, said: "We hope to cooperate with more farmland protection service providers, land contractors and financial firms in the fields of pilot training and employment, drones operation."
Cao said due to the shortage of training and capital, many farmers could not afford agricultural drones, so DJI will put forward a batch of supportive measures such as purchase by installments, pilot training courses and employment opportunities with their partners to help these farmers.
Jean Xiao, a research manager who tracks drones and wearable products at market research firm IDC, said: "The launch of DJI's new farm-specific drones will drive its competitors such as XAircraft Technology Co Ltd to accelerate the update of their related products."