Ofo cranks up the heat with BeiDou locks for its bikes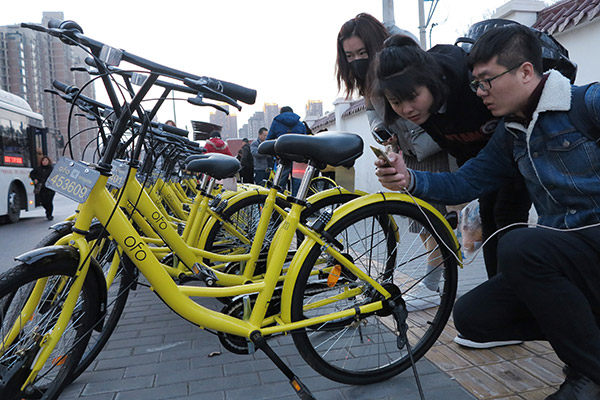 Riders scan ofo bikes in Xi'an, Shaanxi province. [Photo/China Daily]
Chinese bike-sharing startup ofo Inc will equip its bicycles with BeiDou-enabled smart locks, as part of its efforts to leverage the nation's homegrown BeiDou navigation satellite system to offer better-positioning services.
Ofo signed a deal on Thursday with a local company-ChinaLbs International BV-which will see its bikes in Beijing, Tianjin and Hebei province become the first to have BeiDou-enabled smart locks.
Ofo CEO Dai Wei said: "The BeiDou locks are tailor-made for bicycles in the sharing-economy sector, which can help users better locate bikes in remote areas and boost operating efficiency."
Beijing Mobike Technology Co Ltd, the arch rival of ofo, is currently using GPS-enabled smart locks for its bicycles. GPS is a navigation satellite system developed by the United States.
"As we further venture into overseas markets, we will help bring the BeiDou navigation system to other countries in future," Dai said.
Currently, ofo operates a fleet of over 2.5 million bicycles, offering transportation to a total of 30 million riders in 47 cities around the world. The company said it handles more than 10 million bike-sharing trips a day.
Ofo said the two partners would also jointly build a big data platform which will help offer better smart transportation services.
"We are glad to cooperate with ofo to promote the development of the BeiDou navigation system in the bike-sharing industry, which is also one of the target areas of our company," said Cao Hongjie, general manager of ChinaLbs International BV.
Ofo is locked in a fierce battle with Mobike for dominance in China as a growing number of local consumers look to cycling for transportation.