DJI sees jump in revenue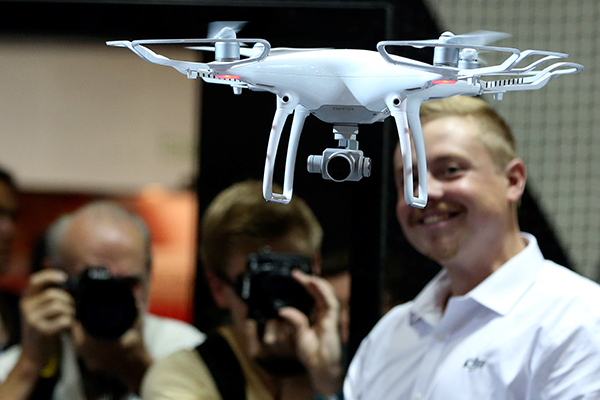 Visitors take pictures of a DJI Phantom 4 Quadcopter drone at the Photokina, the world's largest fair for imaging in Cologne, Germany, in September. [Photo/Agencies]
After opening outlet in Shanghai, company is confident of exploiting new growth areas
DJI, China's largest commercial drone manufacturer, is confident its revenue this year will surge by 60 percent to 10 billion yuan ($1.47 billion), thanks to the expansion of its production line, according to its vice-president.
"This year is a milestone year for DJI, as we are celebrating the tenth anniversary of DJI Innovation," said Xu Huabin at the launch of the company's flagship store in Shanghai.
"We've expanded creative possibilities for professionals, and we've made it easier for general consumers to experience the fun and excitement of flight," he said.
DJI on Friday opened its second Chinese mainland flagship store in Xintiandi, one of Shanghai's tourist attractions.
The first store on the Chinese mainland is in Shenzhen, where DJI is based. DJI opened a store in Seoul, South Korea, in March and another one in Hong Kong in September.
The newest Shanghai store is in a two-story, 500-square-meter building, displaying DJI's full range of aerial platforms and camera products. DJI aims to explore the market potential in the wealthy Yangtze River Delta region with its state-of-art drone technology.
"Our flagship stores have become important touch points for people to discover, learn and be inspired. Our newest Shanghai flagship store will allow us to continue on this path and provide more people with the opportunity to experience our aerial technology first hand," said Xu.
Drone enthusiasts and novices alike can get hands-on experience with DJI's market-leading technology, ranging from the foldable yet powerful Mavic Pro personal drone to the latest professional products such as the Phantom 4 Pro and Inspire 2 drones.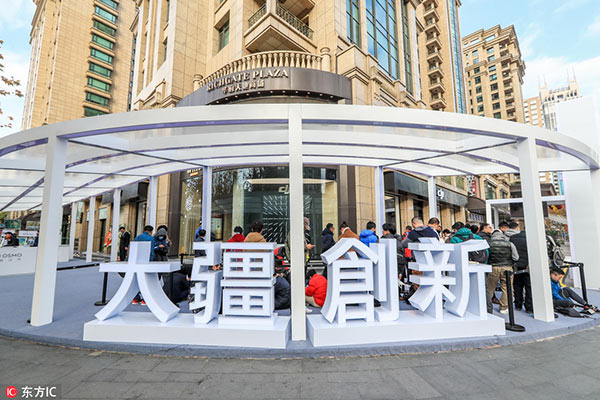 DJI's second Chinese mainland flagship store in Xintiandi, one of Shanghai's tourist attractions, Dec 10, 2016.[Photo/IC]
According to Xu, DJI's revenue has increased 100 fold between 2011 and 2015, with the annual growth rate averaging three to five times.
Although China has 20 drone brands now that offer various models for different purposes, DJI commands about 70 percent of market share, according to IDC's China Aerial Drone Market Quarterly Tracker 2016Q1.
Apart from the China market, the United States is crucial to DJI. The US is DJI's largest market globally, followed by Europe, Australia and China. China contributes less than 20 percent of its global revenue.
For filmmakers and TV program producers, commercial drones offer a cost-effective alternative to airplanes and helicopters, Xu said. Hence, DJI is trying to find potential clients among them.
"We have to date cooperated with quite a few well-known directors and actors in the making of Hollywood movies and sitcoms, including Modern Family and The Big Bang Theory," said Xu.
In addition, DJI has built wide cooperation with US electronic product distributors, including BestBuy, Apple Flagship Stores as well as major airplane vendors, and has several thousand locations for sales in North America.
"For the majority of US customers who go to BestBuy for a drone, they choose a DJI product. It is just like Chinese people buying iPhones. This fact gives us a sense of fulfillment," Wang Tao, a Hangzhou native who founded DJI, was quoted as saying by ThePaper.cn.
DJI has created a US team of several hundred members, with five offices in San Francisco, Los Angeles and New York. Most of the company's new product debuts were held in the US.
In its report published in May, PricewaterhouseCoopers estimated the global market for commercial applications of the drone technology will balloon from the current $2 billion to as much as $127 billion by 2020.
DJI is run by people with a passion for remote-controlled helicopters and experts in flight-control technology and camera stabilization. More than 1 million unmanned aerial vehicles made by DJI are in use worldwide.
DJI's global operations currently span the Americas, Europe and Asia, and its products and solutions have been chosen by customers in over 100 countries for applications in filmmaking, construction, emergency response, agriculture, conservation and many other industries.