When the world becomes an M&A game for a firm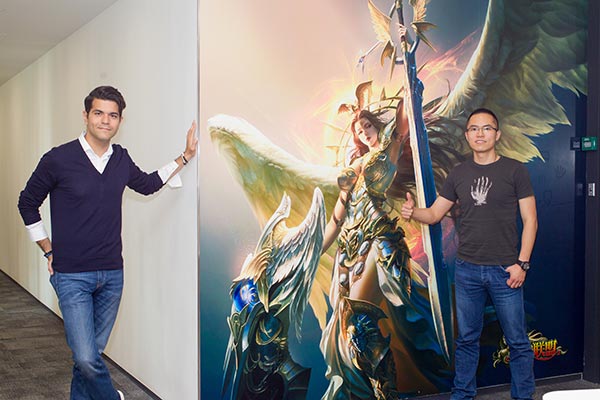 Chen Libiao, chief operating officer of Youzu Interactive Co Ltd (right)and Bigpoint GMBH CEO Khaled Helioui (left) were in Youzu's headquarter in Shanghai on May 12, 2016. GAO ERQIANG / CHINA DAILY
Leading Chinese gaming developer Youzu Interactive Co Ltd is looking at more potential targets overseas for mergers and acquisitions to expand its global footprint.
In March, it bought out Hamburg, Germany-based Bigpoint Gmbh, a global publisher of free-to-play online games and mobile games for around 80 million euros ($88.9 million).
In April, Youzu increased its stake in Japanese electric automotive company Green Lord Motors to 2.6 percent. Both will develop a type of electric vehicle drawing inspiration from Youzu's games and videos. Sales of the car in China will start in 2018, according to China Business News.
Priot to that, Youzu led a $4.3-million investment in an Israeli augmented reality ware company WakingApp.
He Bin, chief investment officer of Youzu, said the company will continue to invest overseas for M&A in terms of intellectual property, entertainment and new technology.
"Buying Bigpoint meets our global strategy to have our products, intellectual property, research and development, and distribution in Europe and American countries," said Chen Libiao, chief operating officer of Youzu.
Chen said Bigpoint pays attention to products and owns good IP. Germany is an important country in Europe, so acquiring Bigpoint is helping Youzu to localize its offerings.
"What impressed me is Bigpoint's pursuit of high-quality products, which is what we do as well. For example, it can focus on improving the browser game of Farmerama for 10 years," said Chen.
Founded in 2009, Youzu Interactive Co Ltd is a Shanghai-based entertainment company specializing in game development and distribution. Its major gaming brands include League of Angels, Knight's Fable and Magerealm, which are published in multiple languages with hundreds of millions of fans globally.
The revenue of Youzu in the first half of this year was 1 billion yuan ($151 million), up 56 percent year-on-year, which yielded a profit of 234 million yuan, up 7.7 percent.
Bigpoint CEO Khaled Helioui said it's better to be owned by a strategic player such as Youzu than private equity firms to avoid a conflict of vision.
"We hope to find new strategic partners in the huge China market. Youzu is product-focused and one of the most successful companies in China," said Helioui.
Founded in 2002 and headquartered in Hamburg, Germany, Bigpoint has offices in Berlin, Germany; Lyon, France; Istanbul, Turkey; Seoul, South Korea; San Francisco, the US; and Valetta, Malta.
China's online game industry realized 143.6 billion yuan in 2015 sales, up 30 percent year-on-year, a report of iResearch Consulting Group showed.
After acquiring Bigpoint, Youzu sent several of its distribution staff to Hamburg to integrate the operations. But Bigpoint's senior management team will continue and no jobs will be cut, said Chen.
In terms of corporate culture, Chen said the two companies are similar, open and full of love, so there could only be a meeting of minds, not a clash of ideas.
"We regard Bigpoint as our branch in Europe to distribute our products. We want to bring good games of Bigpoint to China," said Chen.
Bigpoint will distribute Youzu's popular game League of Angels in Europe. Next year, Youzu will distribute globally as well as in China Bigpoint's new strategy game based on the TV serial Game of Thrones, which is now a valuable intellectual property.
"The integration process is on the right track and we expect high performance in the coming years," said Chen.
Bigpoint's Helioui said it's very helpful that the two firms now discuss product development together and draw from each other's experiences.
A report of Guoyuan Securities said Youzu has been strengthened by China's demographics and fierce competition, and hence is able to expand overseas to diversify its product portfolio.
Chen said the M&A experience will help clinch better deals in future with focus on localized products, strong distribution and high quality. "We hope our overseas revenue in 2018 will be double that of domestic revenue," said Chen.