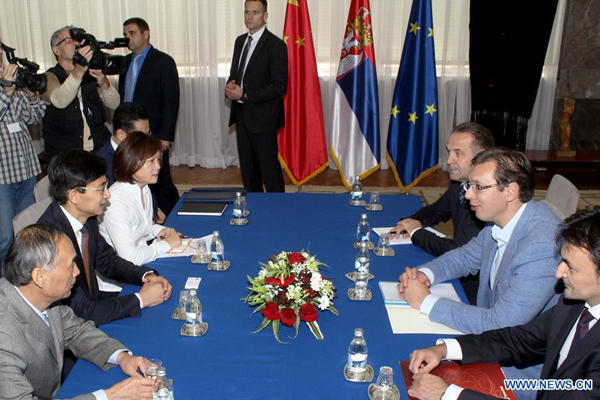 Serbian Prime Minister Aleksandar Vucic (2nd-R) holds a meeting with senior vice-president of Huawei Tang Xiaoming (2nd-L) in Belgrade, Serbia, on Oct 5, 2016. [Photo/Xinhua]
BELGRADE - A fixed network transformation project was launched here Wednesday between China's Huawei and Serbia's national operator Telekom Srbija, marking the start of the first large-scale cooperation in the information and communication technology between China and Serbia.
At the presentation held at the Palace of Serbia, Tang Xiaoming, senior vice-president of Huawei, announced the start of the three-year ALL-IP transformation project worth 150 million euros ($168 million).
Tang said at the press conference that after 10 years of cooperation between the two companies, Huawei planned to "bring the latest technology to Serbian people" and contribute to Serbia's development.
"The aim of this project is to modernize the existing fixed network of Telekom Serbia, that will thus improve its service and provide its users with a much faster network with various performances, high quality video, as well as introduce smart home solutions and improve quality of living and the communication of Serbian people," he said.
Tang explained that all preparations had been completed so that starting from now, Telekom and local companies would work together with Huawei on the project.
Present at the presentation were also Prime Minister Aleksandar Vucic, general director of Telekom Srbija Predrag Culibrk, Chinese ambassador to Serbia Li Manchang, and minister of trade, tourism and telecommunications Rasim Ljajic.
Vucic expressed satisfaction with the deal, calling it another example of a win-win cooperation between Serbia and China that would, according to him, develop even further in the near future.
"I think that it is important that Telekom becomes more successful than competitors in the country and the region. Huawei is one of the leaders in the world and with their knowledge we can take on a top position in the region," he said, adding that citizens had yet to experience the economic benefit of cooperation between China and Serbia.
Culibrk said the two sides defined all elements of the contract and signed amendments Wednesday, "opening a whole new chapter for Telekom and telecommunications in Serbia," explaining his company would purchase equipment, services and infrastructure works from Huawei.
According to Culibrk, Telekom is to invest 150 million euros ($168 million). in the area of fixed Internet and multimedia, which will include more than a million homes and objects in numerous cities and significantly increase Internet speed.
Meanwhile, ambassador Li said the beginning of the project was big news for Serbia and China, explaining it was the first project whose realization had started since the visit of Chinese President Xi Jinping in June.
"Having in mind that political conditions are very good, as an ambassador, I can say we have to invest much more effort and give our best in order to advance the bilateral relations of Serbia and China," he said, adding his hope there would be many more of such projects agreed upon in the future.
Telekom Srbija is Serbia's biggest fixed network operator with 70 percent of fixed network users.
During his state visit to Serbia in June this year, Chinese President Xi witnessed the signing of the framework agreement between Telekom and Huawei for the ALL-IP project, one of the most important achievements of the visit.
Serbian Prime Minister Aleksandar Vucic (2nd-L), senior vice-president of Huawei Tang Xiaoming (2nd-R), together with Chinese ambassador to Serbia Li Manchang (1st-R) and Serbian minister of trade, tourism and telecommunications Rasim Ljajic attend the launching ceremony of Huawei's ALL-IP transformation project at the Palace of Serbia in Belgrade, Serbia, on Oct 5, 2016. [Photo/Xinhua]