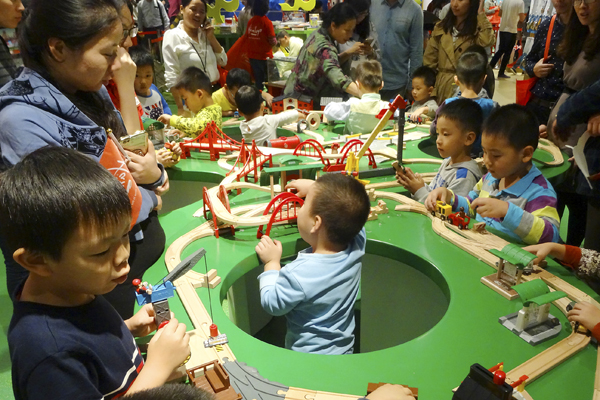 The newly opened Hamleys in Nanjing, Jiangsu province, gives children a hands-on experience. [Photo by Wang Luxian/For China Daily]
For decades, Hamleys, on London's Regent Street, did battle with FAO Schwarz, based on New York's Fifth Avenue, for the title of world's most prestigious toy store.
Now, just a little more than a year after FAO Schwarz closed its doors for good, a victim of soaring rents, Hamleys has gained a new lease on life under Chinese ownership-the opening of a massive new superstore in Nanjing, Jiangsu province, timed to coincide with China's National Day holiday, which began on Saturday.
Plans were also announced for more than 100 new stores throughout China in cities including Beijing and Shanghai.
The Nanjing store maintains the same standard for toys found in the Regent Street flagship. Shoppers can visit four floors spread over 7,000 square meters at the Xinjiekou Sanpower Plaza, a veritable fairy-tale kingdom.
Hamleys CEO Gudjohn Reynisson, clutching one of Hamleys' iconic teddy bears, said at the Nanjing opening: "We have been preparing to enter the Chinese market for the past 256 years in London."
Analysts made it clear that Hamleys was also looking to cash in on the latest shift in the Chinese family planning policy-allowing two children.
Toy imports into China surged 38.27 percent in 2015, according to Xinhua News Agency, citing the General Administration of Customs.
"With the increased consumption level, the role of Chinese children in toy selection becomes critical," Zhou Qin, a professor at Southeast University Industrial Economics Research Center, told Xinhua.
Hong Kong-listed retailer C Banner International Holdings acquired Hamleys in October last year from France's Ludendo Groupe, which had owned it for two years. C Banner is a strategic partner of Sanpower, which has a major stake in House of Fraser, a British department store chain.
C Banner paid 100 million pounds ($127.5 million) in cash for the iconic British toy store, which has been trading for 256 years.
Analysts say the key to Hamleys' continuing success has been its ability to maintain a powerful brand over the years. Traditional products such as teddy bears, toy trains and model cars are still on the shelves, while at the same time the retailer hasn't lost sight of the growing appetite among consumers for more up-to-date electronic and digital items.
"My parents took me to Hamleys. I took my children. And now they are taking their children," said Richard Page, a father of two from Greenwich in Southeast London.
"The key thing is that there's always a slightly wonderful atmosphere which kids love. It's a treat for them, but there's continuity, too. The model electric trains that I remember as a kid are still there."
Hamleys traces its roots back to 1760, when William Hamley founded a toy store in London's High Holborn. The shop moved to its Regent Street site in the heart of London's West End shopping district in 1881.
Hamleys' attraction for generations of parents and children in London has been the hands-on aspect of the shop, with kids allowed to try toys and handle them.
Dai Tian and Xue Bai in London contributed to this story