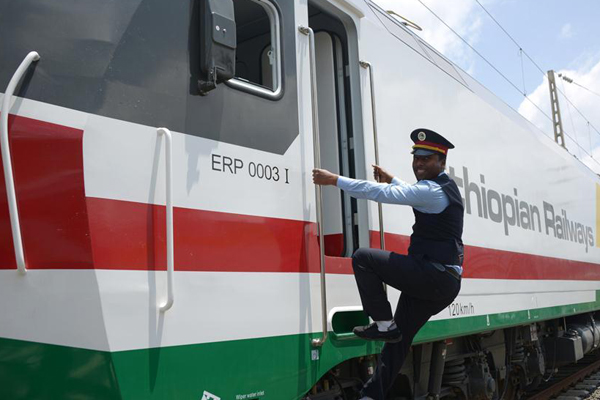 An Ethiopian driver gets on the train in Addis Ababa, Ethiopia, Oct 1, 2016.[Photo/Xinhua]
ADDIS ABABA - The Chinese-built Ethiopia-Djibouti railway project will have significant contribution to the two East African countries' economic development and technology transfer, an Ethiopian official has said.
The 752.7 km electrified railway connecting the Ethiopian capital Addis Ababa and the port of Djibouti was inaugurated Wednesday at a ceremony in Addis Ababa.
Speaking to Xinhua on the day, Arkebe Oqubay, Special Advisor to the Ethiopian Prime Minister, said that the route is an important import-export corridor for Ethiopia.
"It will have a significant contribution to the country's economic development because of the impact of this corridor on boosting cargos for international export trade... This will improve the competitiveness of industries in Ethiopia," he noted.
Offering both passenger and freight services, the railway has a designed speed of 120 km per hour, and is capable of slashing travel time between Addis Ababa and Djibouti from 7 days on roads to about 10 hours.
Oqubay said the project further strengthened friendship and cooperation between Ethiopia and China.
"This represents economic ties and strategic partnership between Ethiopia and China," the official said, adding that the project would enable technology transfer from the Chinese to Ethiopians and Djiboutians.
"This is the first railway line which is electric powered in Africa. Ethiopians and Djiboutians will be able to acquire knowhow and management skills which will help us also to manage the other corridors," he added.
Oqubay also lauded Chinese firms for their work.
"Today, this project is being inaugurated after construction period of less than four years. In relation to many other projects, this is really quite fast project," he said.