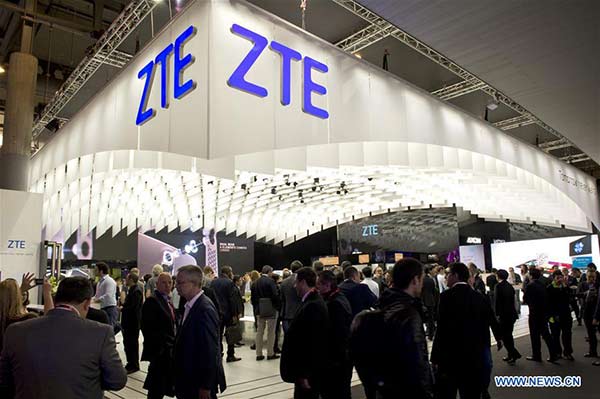 Visitors walk in front of the ZTE stand at the Mobile World Congress 2016 in Barcelona, Spain, Feb 22, 2016. [Photo/Xinhua]
ADDIS ABABA - Chinese telecom company ZTE has showcased its support for Ethiopia's green efforts through transplanting 2,000 tree seedlings in its annual tree planting program in the East African country.
Nearly 100 staff of ZTE Ethiopia took part in the tree planting program, the third of its kind, on Tuesday at Gulelle Sub-city in Ethiopia's capital Addis Ababa.
Speaking on the occasion, Li Guang Yong, Deputy CEO of ZTE (HK) Limited Ethiopian Branch, noted that the tree planting program has already become ZTE's best culture, which aims to support the green growth path in Ethiopia.
"Being an international company working in this country, besides the construction of the national network, we also consider as the main objectives to actively participate in the different community programs," said the Deputy CEO.
The company has so far planted 6,000 tree seedlings at the Gulelle sub-city in memory of late Prime Minister Meles Zenawi of Ethiopia.
The company, in the last 16 years, has also carried out other support activities in Ethiopia that target low-income groups, youth and women such as constructing schools, book donations and providing financial assistance for orphans and destitute students.
The company says its presence in the country has brought about a mobile revolution by having connected over 80 million people.