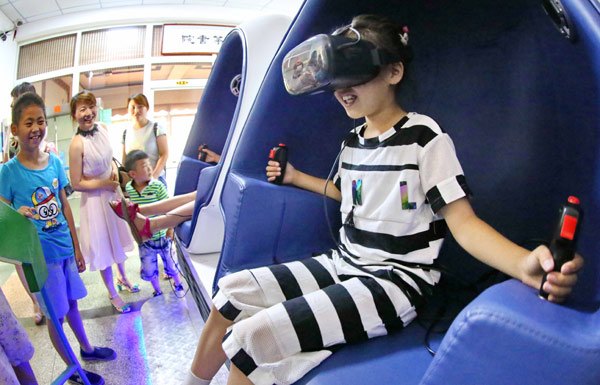 A child tries on VR goggles in a youth center in Qingdao, Shandong province, JUly 7, 2016. PROVIDED To CHINA DAILY
Learning a new language, and many other tasks, could soon become fun of the high-tech variety.
Imagine this: Acat jumps up from a textbook and talks to Chinese students in grammatically perfect English. Students simply love the interactive experience as it is much more enjoyable and engaging than reading and reciting textbooks alone.
Hail, augmented reality! AR, for short.
AR uses computer simulation to overlay virtual objects and characters on top of real life environment. Heard of Pokemon Go, yet?
AR technology is gaining in popularity even in Chinese classrooms, along with virtual reality or VR technology that uses computer simulation to generate digital worlds in 3-D.
NetDragon Websoft Holdings Ltd, a leading Chinese internet firm, is one of the players that are using VR and AR technologies to revolutionize the education sector.
They are enabling students to experience textbook content in a 360-degree immersive digital world, and interact with cartoon characters embedded in e-books.
The company's education related VR content spans multiple disciplines, covering biology, geography, science, and safety. Its 101 VR immersion classrooms and VR English training classrooms are already in operation.
"VR technology has a great potential in education, especially in scientific experiments. Many schools cannot offer students appropriate facilities for learning. VR can help solve the problem by offering immersive digital experience and enriching class activities," said Zhao Ziming, an analyst at Beijing-based internet consultancy Analysys International.
In February, NetDragon unveiled a VR base in China's southeastern Fujian province by partnering with the local government. It features a 20,000-square-meter experience center where people can have firsthand experience of VR-enabled classrooms.
In June, the company's education subsidiary Huayu signed a strategic cooperation agreement with Dell Inc's China branch, to jointly establish a VR laboratory and explore how to apply the cutting-edge tech in the education sector.
Simon Leung, vice-chairman of NetDragon and CEO of Huayu, said: "Content is of utmost importance in promoting the development of VR. Content is to VR devices what apps are to smartphones. But currently, no matter whether it is the application of VR in gaming or education, content is still in great shortage."
So, the company has established a 3-D content library, including a vast amount of 3-D raw material using which its corporate clients can quickly build up their own VR content.
Through simulation-driven training, VR technology can reduce dangers in certain risky operations. More significantly, it can lower costs.
In a report released in February, Goldman Sachs Group Inc said VR has the potential to become a standard tool in education.
Last year, Google Inc launched the Expeditions Pioneers Program, offering teachers kits to run virtual classes in schools. Another Google program enables students and teachers worldwide to hook up online for virtual classes in real time.
"VR devices' images are viewed through the refractive lens, so the images appear as though they are just a few meters away. However, some low-end VR devices, such as mobile phone VR glasses, will cause visual fatigue and dizziness, posing risk for adolescents' eye health," said Zhao.
Zhao said VR equipment should be used only in scientific experiments and to make teaching fun, and cannot replace conventional teaching.