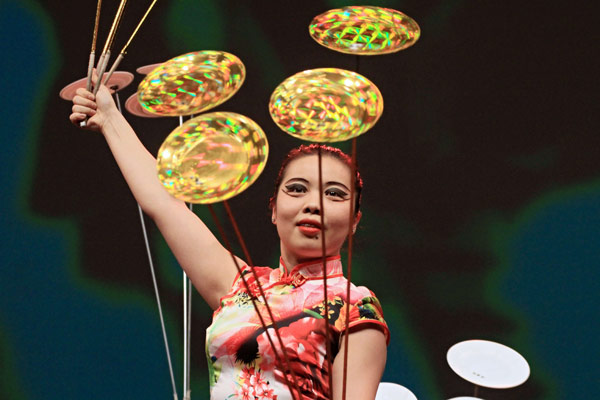 Dancers perform on stage during the "Shanghai Nights" show of the Chinese National Circus in Brno, Czech Republic on March 20, 2014. [Photo/VCG]
ZHENGZHOU - A private acrobatics company in Central China has inked a deal to acquire a large performance facility in Branson, Missouri, known for being one of the world's largest live entertainment centers.
Under the contract signed on Monday, Henan Acrobatics Group will take ownership of the Branson Events Center, which covers an area of 20 hectares and has theaters capable of holding 3,500 people.
"The purchase of the overseas arts performance center is a vital moment for the group's development and an important step for Chinese acrobatics to tap the international market," said Fu Jien, president of the company, Wednesday.
"Acrobatics are a traditional art of China, but we add some new elements to the performances," said Fu, also vice chairman of China Acrobats Association.
The company declined to reveal the investment involved in the purchase, but it is known that the events center will become an acrobatic performance and training base of the company.
Branson attracts several million visitors each year and has more than 50 theaters, showing thousands of theatrical performances every year
With more than 600 performers, Henan Acrobatics Group, based in Puyang city, Henan province, has staged performances in more than 30 countries and regions.
Puyang is dubbed as the cradle of traditional Chinese acrobatics, and Puyang acrobatics are on China's intangible cultural heritage protection list.