RoboBees on display during the Summer Davos Forum in Tianjin in June. [Photo provided to China Daily]
It is perhaps the world's smallest drone. Weighing about a 10th of gram, the little flying machine, dubbed RoboBee, is two centimeters in height. At first glance, it looks just like a mosquito, and a magnifying glass is needed to observe any details.
But the coin-size robot is ready to fly as well as real-life bees. It can flap its two tiny transparent wings at 120 times per second, perch on the underside of a leaf and even "swim" under water, when connected with a nearby power source.
RoboBee is the brainchild of a microrobotics lab at Harvard University. Though still in development, Chen Yufeng, a member of the research team, said it holds huge promise.
"In the future, it can replace wild bees to pollinate crops and be used in rescue operations where large equipment and human beings are too big to enter," Chen said.
The team started to work on the project in 2008, when the United States saw a huge and rapid decline in the number of wild bees. They obtained $10 million from the US National Science Foundation to finance the research and aim to achieve breakthroughs in autonomous flying, miniaturized chips and other cutting-edge technologies.
After trial and error, they managed to use micro electromechanical processing technology to produce extremely small components that measure only 10 microns.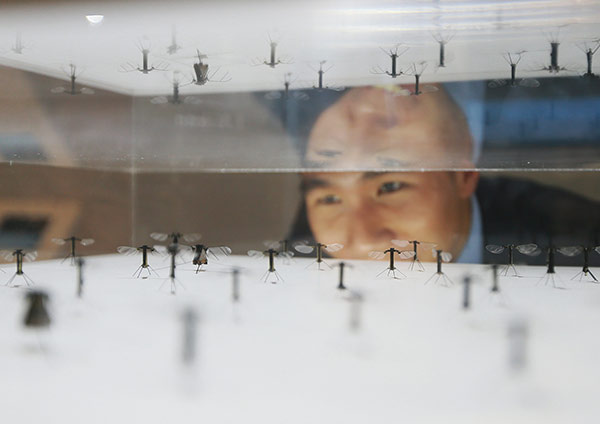 RoboBees on display during the Summer Davos Forum in Tianjin in June. [Photo provided to China Daily]
Chen, who joined the project in 2012 and is studying for his engineering science doctorate at Harvard, is in charge of the research and study of how insects fly-to ensure that RoboBees flap their wings at the same frequency as that of wild bees.
But much work remains to be done to tackle the power problem. These micro aerial vehicles are driven by electricity.
"We have not found batteries that suit RoboBees, because the smallest battery in the world weighs 300 milligrams, about three times the weight of RoboBee," said Chen.
"Also, we have yet to figure out how to put image sensors into the tiny body. "The near-term target is to overcome theses technical difficulties."
But Chinese consumers and companies are already get excited by the idea. "Many companies are interested in our product. When the technology matures, we will definitely promote RoboBee in China," Chen added.
Potential commercial users are looking forward to seeing them released into the marketplace.
"The RoboBees are quite impressive," said Wang Hailin, marketing director at Shanxi Ruihua Agricultural Development Co Ltd. "I am looking forward to its commercial application. But it is important to achieve a balance between price point and technology."