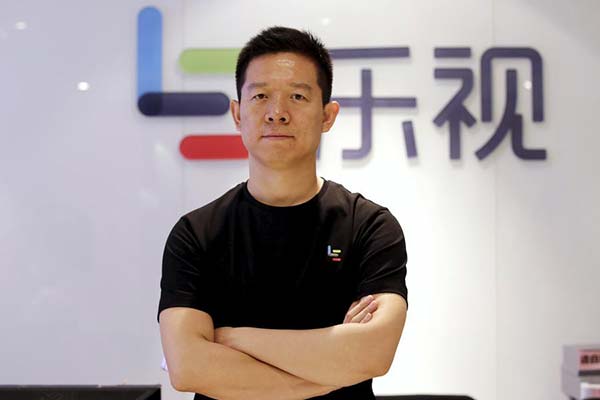 Jia Yueting, co-founder and head of Le Holdings Co Ltd, also known as LeEco and formerly as LeTV, poses for a photo in front of a logo of his company in Beijing, April 22, 2016. [Photo/Agencies]
BEIJING - LeEco, China's leading online streaming site, has made an initial estimate that its profits came to between about 280 million yuan ($41.9 million) and 306 million yuan in the first half of 2016, up between 10 and 20 percent year on year.
The company said in a statement on Thursday, ahead of publication of its finalized results later this summer, that it raked in about 8.9 billion yuan to 11.1 billion yuan in the first six months, up 100 to 150 percent.
LeEco, also formerly known as LeTV or Leshi Internet Information Technology Corp. attributed the profit rise to strong sales of its smart TVs, high-definition products installed with an LeTV operating system, app store and streaming video platform. Over seven million such "Super TV" sets have been sold since they were launched three years ago.
The ChiNext-listed company saw its stock price fall by 2.85 percent to stand at 50.81 yuan per share as the stock markets closed on Thursday.