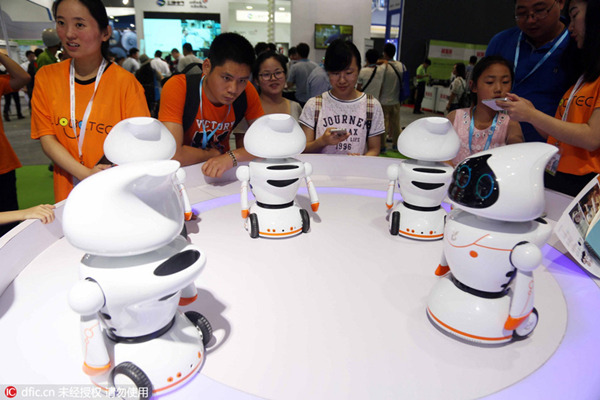 Children watch robots at the 5th China International Robot Show(CIROS2016) on July 6, 2016, Shanghai. [Photo/IC]
The 2016 World Robot Conference will be held in Beijing from October 21 - 25.
The conference, jointly hosted of the Ministry of Industry and Information, China Association for Science and Technology, and the Beijing Government, will be the largest of its kind in the country.
The event will have three components: a world robot forum, a robot expo, and a robot competition.
The forum will be composed of 20 sub-forums with different themes. In the news conference, the organizing committee expects a total of 300 scholars and experts from China and abroad to attend the forum.
The robot expo will be held for five days, and the total area for the exposition is 40,000 square meter, compared with last year's 22,000 square meter. Industrial robot, service robot, and specialized robot will be showcased in the expo.
The competition will include five sub-competitions for unmanned vehicles, robot stars, under-water robots, drones, and RobotCup which is for teenagers.
According to Xu Xiaolan, the secretary general of this year's World Robot Conference, the competition will attract 160 to 270 teams from leading universities worldwide, and a number of global enterprises such as Baidu, LeEco, and Tesla.
"Through this Robot Conference, we hope we can build a bridge between teenagers, innovators, experts, and enterprises, providing them an opportunity to connect and a reference to the transformation of China's manufacturing industry, " said Xu.
Ni Yuchen contributed to this story.