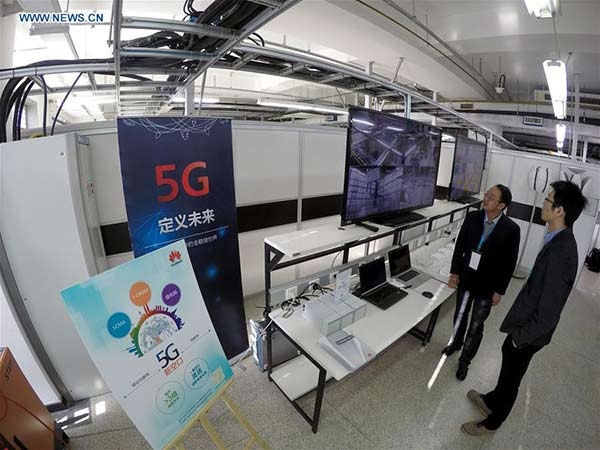 Staff members work at the 5G Innovation Lab in the China Academy of Telecommunication Research in Beijing, capital of China, Jan 7, 2016. [Photo/Xinhua]
China has always been at the forefront of new technologies, especially now in 5G telecom technologies research and development, according to Mats Granryd, the newly installed director-general of the GSM Association.
Granryd said the organization is making great effort to provide guidance and regulation on 5G rollout worldwide.
The global industry body unites nearly 800 mobile operators with more than 250 companies in the mobile ecosystem, including handset and device makers, software companies and internet companies, as well as organizations in adjacent-industry sectors.
It also hosts industry-leading events such as the Mobile World Congress, the world's largest exhibition dedicated to the mobile telecom industry.
Granryd, who spent 15 years in a variety of roles at Sweden telecom giant Ericsson and was CEO of Tele2, one of Europe's fastest-growing telecom operators, said the telecom industry in China is developing rapidly, not only in scale, but also in innovative ways of using new technologies.
He is confident that "in a few years", 5G will be employed widely in China.
"Some operators in Asia, Europe and the United States are claiming they will launch 5G as early as 2018, which is two years before it will be fully standardized.
"China's major operators are all working on 5G and will be early adopters of the technology," said Granryd, adding that 5G's fast development in China is making a growing contribution to promoting the technology worldwide.
"In working with our members and considering how we are going to treat 5G from a government perspective, it's important for us to follow global standards and regulations," he said
China is currently working hard at gaining an edge over international competitors in 5G research and development.
The Ministry of Industry and Information Technology has said the experimental stage of 5G will last three years from 2016 to 2018, before being fully commercialized in 2020.
The country's main telecom carriers have already accelerated their efforts at developing 5G technology.
China Mobile Communications Corp, the country's largest carrier, set up a 5G innovation center in February, and will launch a 5G laboratory.
It also plans to finish the testing of 5G technologies and products in 2017 and conduct trial operations in 2018, with commercial use by 2020.
Fu Liang, a telecom expert, said: "5G development in China is generally keeping pace with the world, and China's technology companies, such as Huawei Technologies Co Ltd and ZTE Corp, have a right to a say in formulating the standard of 5G globally and take a lead in promoting its commercial use."
Ma Si contributed to this story.