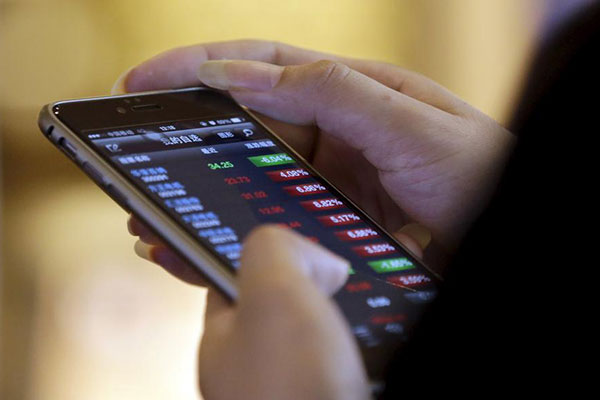 A man checks share prices on his mobile phone while waiting for his coffee at a Starbucks branch in Beijing July 16, 2015.[Photo/Agencies]
China's stock market is going to see lots of fluctuation this year, and the average annual investment return of quantitative hedge funds will be around 5 percent, industry insiders said.
"I will be happy if the benchmark index could return to the level of early 2016 by the end of this year," said Li Yizheng, general manager of Steinmetz Solid Asset Management Co, one of the country's largest quantitative hedge funds in terms of assets under its management.
Founded in 2015, the company has more than 30 products and around 2 billion yuan ($303 million) under management.
The benchmark Shanghai Composite Index opened at 3536 on January 4 and fell to 2737 by the end of January. It rebounded 12 percent in March as this year's economic data buoyed investor sentiment. But, according to Li, the performance of the benchmark index in the first half year will likely outperform that of the second half.
Chinese insurers, the major players in the capital market, also take a conservative approach in the capital market this year, given the rising fluctuation and growing risks.
"The fluctuation of this year's capital market has beaten our expectation. We will be more defensive in our investment strategy this year," said Li Quan, president of New China Asset Management Corporation Limited. "We will patiently wait for appropriate investment opportunities."
PICC Group's vice-president Wang Xiaoqing said the company will reduce investments in the equity market and choose more long-term investment in quality assets.
With the growing fluctuation in the capital market, quantitative hedge funds, which mainly base trading decisions on a mathematical model and have less relevance with the index fluctuation, have caught more attention of investors.
"We receive much more enquires from institutional investors such as securities companies and private banks, and their expectation for the investment return has been much lower compared with that of last year, " said Li.
As the central bank cut the interest rate six times, the average return of wealth management products dropped to around 4 percent.
"The average return of quantitative hedge funds will be around 5 percent this year, compared to more than 20 percent last year," said Li. "We aim to realize a return of around 16 percent this year."
The investment return of Steinmetz Solid Asset Management Co exceeded 40 percent last year.