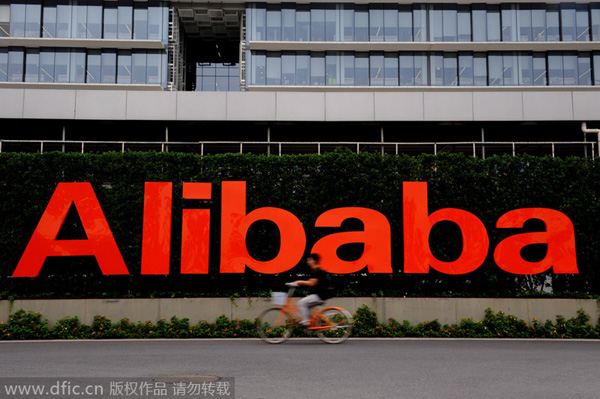 A cyclist rides past a signboard of Alibaba Group in Hangzhou city, East China's Zhejiang province, June 25, 2014. [Photo/IC]
Securing 40 million users in 2015, YunOS, backed by Alibaba Group, has become the world's third-largest operating systems (OS) for smartphones, according to domestic tech website MyDrivers.
"YunOS, accounting for 20 to 25 percent of the domestic market share, will surpass the share of Apple Inc's iOS in the end of this year," said Wang Jian, Alibaba's chairman of technology steering committe, during the Alibaba Technology Forum held on April 15.
In his speech, entitled "The real innovation is competing with the past", he emphasized that Alibaba's competitor is the past era rather than companies like Google.
Taking cloud computing as an example, he said that Alibaba is expected to compete with industries such as IBM that have represented the advanced technology of the US since 19th century.
"Today's China is like the US in 100 years ago. Time has given us a great opportunity to serve all mankind with technology and change the world with technological innovation," said Wang Jian.
He believes that China is likely to become the first country that turns computing into public service and offers the world a smart operating system apart from Android and iOS.
Besides smartphones, Alibaba's YunOS can also be used in smart set-top box, Internet TV, smart home, smart vehicle equipment, wearable and other smart terminals.
Currently it has cooperated with more than 10 Chinese and foreign smartphone manufacturers, wearable devices manufacturers, TV enterprises and application developers.