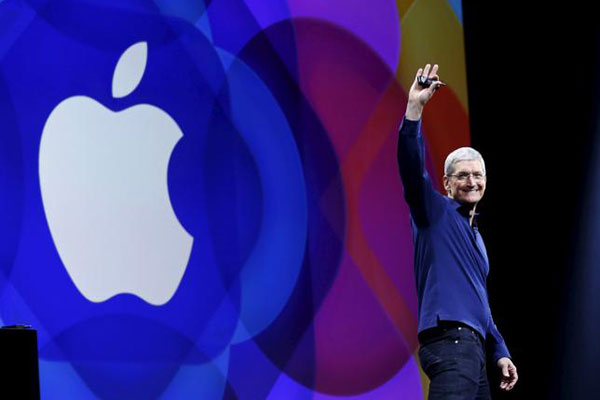 Apple CEO Tim Cook waves as he arrives on stage to deliver his keynote address at the Worldwide Developers Conference in San Francisco, California, United States June 8, 2015.[Photo/Agencies]
SAN FRANCISCO -- Apple Inc unveiled new operating systems for smartphones and computers and a new music streaming service on Monday at an annual event in San Francisco.
With Chief Executive Officer Tim Cook delivering a keynote address, the company kicked off the Worldwide Developer Conference (WWDC) of the year with a series of announcements for software upgrades or improvements.
About the new OS X, for Macintosh computers, Cook said it brings "a whole bunch of new capabilities" to the machine. And the iOS 9, for iPhones and iPads, comes with a new "proactive assistant" system designed to learn users' musical taste and help users coordinate events. In addition, Apple introduced Watch OS2, for Apple Watch.
Operating system, or OS, is software that manages hardware and software resources and provides a platform for more specialized functional applications, or apps.
Some other changes unveiled on Monday include new features for Apple Pay and in Maps navigational app, a new app known as News, and a new service dubbed Apple Music.
Chinese Apple fans are eagerly following the tech giant' 26th annual Worldwide Developers Conference although it is taking place at midnight, Beijing time.
"Although there is no surprise when it comes to hardware, the event has introduced some new technologies," said an Internet user.
"This launch ceremony is more attractive and trusted. There is no more innovation at the WWDC 2015," said some Chinese netizens.
At a monthly cost of $10, Apple Music will be available for iPhone, iPod Touch and iPad later this month and for devices working on Android operating system in the fall to access music streaming and a 24/7 radio station.
Cook was visibly thrilled to announce that Apple's app store has passed 100 billion downloads.
Apple, headquartered in Cupertino, north California, is the most valued tech company in the world.