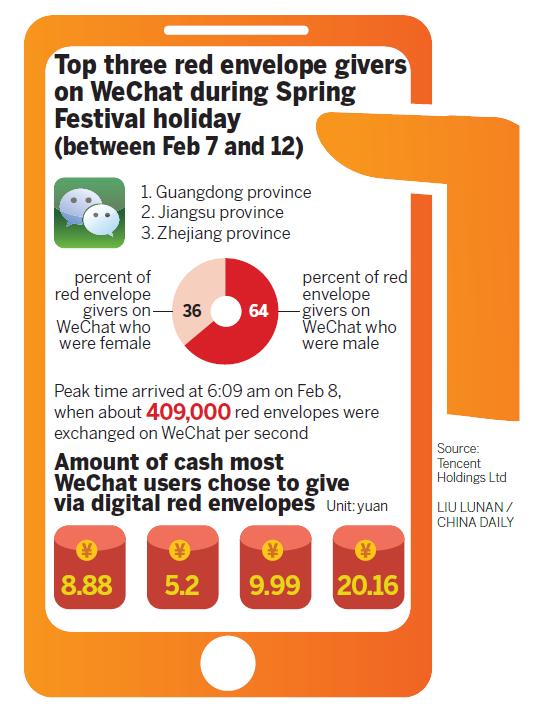 Tencent Holdings Ltd has reported a tenfold surge in the number of digital red envelopes, known as hongbao in Chinese, sent on WeChat during the weeklong Spring Festival holiday, despite both its main Internet rivals launching campaigns to lure mobile-payment users.
Tencent said 516 million WeChat users exchanged 32.1 billion cash-filled virtual envelopes between Feb 7 and 12, compared with 3.27 billion last year.
The huge rise in number came as Baidu Inc and Alibaba Group Holdings Ltd both joined the competition, investing heavily to make exchanging digital envelopes a viral phenomenon during this year's holiday.
Offering red envelopes stuffed with cash to family members and friends is one of the festival's age-old traditions, but it was given a digital twist, first by Tencent in 2014, before becoming a three-way fight this year between the Chinese Internet titans.
Exchanging digital envelopes requires users to connect their debit cards with their accounts on the firms' applications.
Analysts say that the competition is really about gaining control of China's booming mobile payments market, which was estimated at 1.6 trillion yuan ($246.15 billion) in 2015 by consultancy Analysys International.
Alipay Wallet, the mobile payment app affiliated with Alibaba, said more than 100 million people participated in its red envelope campaign on Feb 7 alone, the Lunar New Year's Eve.
It spent 800 million yuan on promoting its campaign, practically sending people free money to encourage them to participate.
Baidu Wallet, Baidu's mobile payment arm, said it gave out 4.2 billion yuan worth of digital envelopes, including coupons and cash, attracting 11.2 billion visits on Feb 7 and 8.
Li Chao, an analyst at Internet consultancy iResearch Consulting Group, said Tencent's WeChat red envelopes remained the clear winner among mobile Internet users, with 516 million users sending them, out of China's total of 620 million mobile Internet users.
"But that doesn't mean Alibaba and Baidu's efforts were in vain," he said, adding Alibaba had gained some key data that will help it further develop its Internet finance services.
"Alipay Wallet made it a rule, that people had to connect with friends on the application first before receiving any free red envelopes.
"The company can now tap into that data, to improve risk controls for its financial services," he said.
Alipay claimed recently its red envelope campaign helped secure 1.1 billion pairs of friends on its mobile payment application.
Cao Lei, director at Hangzhou-based China E-Commerce Research Center, said digital red envelopes have managed to connect more people using cash via smartphones.