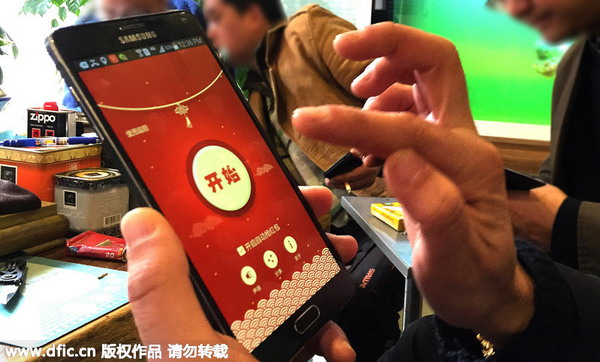 A Chinese mobile phone user tries to snatch Hongbao (red envelope) via a mobile app in Chongqing municipality on Feb 24. [Photo / IC]
Government officials receiving red envelope via WeChat are breaking the law, Xinhua reported, citing Hangzhou's discipline inspection commission.
Officials will be investigated and charged if money in their virtual accounts exceeds a certain level, the commission said on its WeChat account.
Although a single red envelope on WeChat is often worth no more than 200 yuan, there is the potential for corruption, an official from the city's discipline watchdog said.
China's regulator is studying previously disguised ways of offering bribes as part of the country's ongoing anti-corruption campaign. Last year, the Central Commission for Discipline Inspection said it would strengthen supervision of officials' actions to prevent corruption by 'wearing a cloak of invisibility' which includes receiving electronic gift cards and virtual red envelopes.