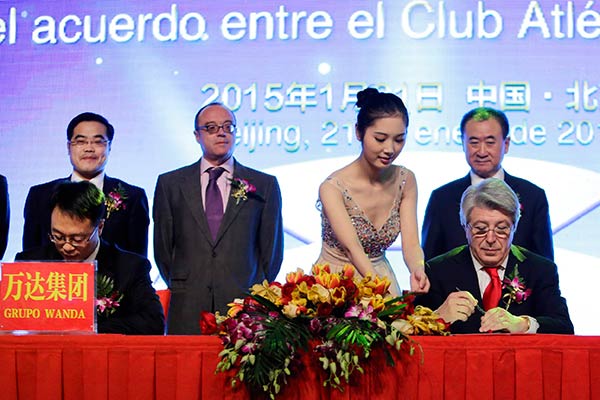 Wang Jianlin(first from right, rear), chairman of Dalian Wanda Group Co Ltd, attends an investment agreement signing ceremony in Beijing with Spanish soccer champions Atletico de Madrid.[Photo/Agencies]
In 2012, I found myself watching the final of the UEFA Euro tournament in the bar of a youth hostel in Qingdao during a university summer break.
I remember that my Spanish friends and I were surrounded by dozens of Chinese soccer fans in their early 20s wearing official Spanish and Italian national jerseys. To our surprise, they were as equally excited about the game as we were.
Despite the overwhelming enthusiasm for soccer among the young people in the bar, I could have never predicted that soccer would become such an important issue for the Chinese economy.
It was also hard to imagine that China's role in the European soccer industry would change from being a mere spectator to becoming an active player.
In only two years, China has developed a sudden passion for the sport, seeking to take advantage of the commercial opportunities that soccer can bring to its global ambitions.
Soccer has rapidly become an irresistible ambition for China's wealthiest investors.
Nowadays, Chinese cash-rich companies are one of the most active buyers and sponsors of European soccer clubs, having already made important incursions into Europe's top soccer competitions.
The phenomenon, which gained pace last year with Chinese property giant Dalian Wanda Group Co Ltd's acquisition of a minority stake in Spain's Atletico de Madrid, seems unstoppable now.
European soccer clubs are desperate for new investors, especially given that the competition is demanding higher expenditure on new players and their salaries.
Although the finances of Europe's top clubs have been booming in recent years thanks to broadcast rights and commercial revenue, smaller teams have been struggling with high levels of debt.
Small- and medium-sized teams in the top leagues have been the main targets of Chinese companies, even if some of these clubs do not yield much of a return.
In November last year, a financial adviser to Guangdong-based toy manufacturer Rastar Group, confessed to me that he had strongly advised the company against the purchase of a majority stake in Espanyol, a team in the Spanish first division.
"They completely ignored my advice. It does not make any sense financially," he said disapprovingly. So, given their poor financial returns of these investments, why are Chinese investors suddenly so interested in owning these soccer clubs?
Chinese companies seem to be currently testing the waters with the acquisition of smaller teams.
The performance of these new Chinese owners is likely to have an important impact on future investment in the soccer industry.
Moreover, their ability to manage these clubs is likely to determine if Chinese investors are ready to place bids for Europe's top teams.
China's acquisitive mood in the European soccer industry clearly reflects the global ambitions of the country's largest enterprises.
Soccer is one of the most popular sports in the world, having a crucial social influence on both mature and developing economies.
Investing in soccer helps Chinese companies to build a reputation in countries where their business is growing. Additionally, the acquisitions can generate a positive predisposition from the general public toward their general investments.
To illustrate this, Wanda Group, one of China's largest property and entertainment companies, was little known in Spain a year ago.
The acquisition of a minority stake in Spain's Atletico de Madrid turned Chinese tycoon Wang Jianlin into a highly recognizable figure in Spain.
Wang is now spending heavily in creating his own hospitality empire in Spain with the acquisition of an iconic building in Madrid that will become a luxury hotel, and the potential purchase of a famous resort in the Mediterranean coast.
Purchasing a soccer club does give Chinese investors immediate public recognition, helping them with their international expansion plans.
The phenomenon of Chinese investment in soccer has only started, with the number of Chinese companies reported to be flirting with European teams rapidly increasing.
The question remaining is: how long will it take for a Chinese company to fully own one of Europe's top clubs?