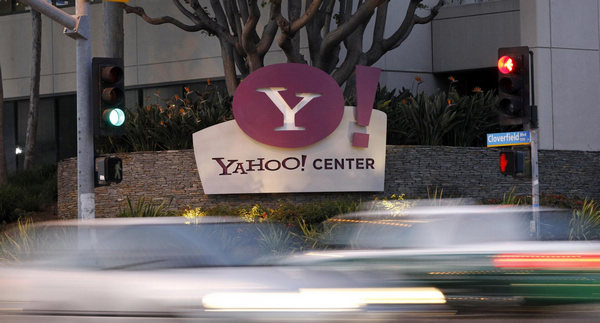 The Yahoo offices are pictured in Santa Monica, California in this April 18, 2011, file photo. Yahoo Inc Chief Executive Scott Thompson is stepping down after a controversy over a fake computer science college degree on his biography, a source familiar with the situation said on May 13, 2012. [Photo/Agencies]
Starboard Value, shareholder of Yahoo Inc, asked the board to drop the spinoff plan of its stake in e-commerce giant Alibaba Group Holding, according to Bloomberg on Friday.
The fund advised management to sell Yahoo's main search and display advertising businesses instead, saying the market has a dim view of its current strategy.
Such skepticism comes as Yahoo's enterprise value is heavily tied to its stake in Alibaba. Its core business, excluding cash holdings, Alibaba shares and partial ownership of Yahoo Japan Corp, is valued at merely $2 billion out of the total $31.2 billion, reported Bloomberg citing Starboard's estimate.
"Selling the core business is now the best outcome for Yahoo shareholders," said Jeff Smith, the fund's Chief Executive Officer, in a letter to management, adding that Starboard will "look to make significant changes to the board" if the company carries on with the plan.
Yahoo earlier announced its plan to spin off its nearly 15 percent stake in Alibaba into a separate corporate entity, in part to avoid tax.
The board authorized the plan in September, despite that the United States Internal Revenue Service declined to grant Yahoo an advance ruling blessing the deal.
The spinoff would let Yahoo focus on market where it can have an impact, said the CEO Marissa Mayer on the company's third-quarter conference call according to news agency.
Alibaba traded at $77.87 per American depositary share (ADS) on Thursday. Yahoo closed down 1.1 percent to $32.63 and the stock has lost 35.4 percent so far this year.